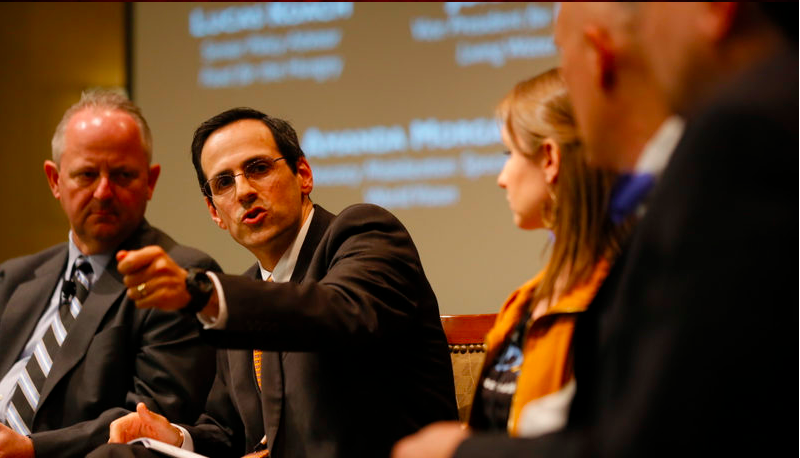 Today is day two of H2O:DC and we are going to Capitol Hill! Visit the blog throughout the day and follow us on Twitter for live updates as 165 advocates attend over 150 meetings- because we believe that the
Water for the World Act
should become law. You can support us by sending messages of encouragement and tweeting to Congress using
#CheerstoH2O
.
Here are some highlights from H2O:DC, Day 1:
Pamela Shao, World Vision Tanzania (her first trip to the U.S.!):
"If you look at your program, there is a little girl. It says, 'can a trip to Washington, D.C., get this girl to the classroom instead of the river?' I am here to tell you YES. Water can make all the difference.

When a girl has to carry water, even if she can make it to school, she will be tired. She will not perform well in school. Because she does nor do well, she stops after primary school. Because she is out of school she marries and then has a child at the age of 14. However, she is not ready to care for a child; she is only a child herself. Her child will not thrive, and the cycle of poverty will continue."
Jesse Eaves, World Vision US, Senior Policy Advisor for Child Protection and event emcee (get to know him here)-
"I have seen many, many children who were trafficked or sold into labor, because a family member got a preventable disease and they could not afford the medical treatment.

If you ever wonder what justice for children looks like, sometimes you only have to look as far as a borehole or a latrine. It can mean water, it can mean freedom."
Reverend Alexia Salvatierra (You can see a video of her here):
"To empower someone means trusting someone. Someone trusts that you can do more than you think you can do.

Don't think of the problem of people not having clean water, think of the world if everyone did have clean water, how would out world be different, better? Articulate that dream.

When we accept injustice and choose not to act, What is the great lie? The great lie is that some people are worth more than others. How do we negate this? We remember, we are all made in the image of God."
Eugene Cho (founder of One Day's Wages, plus so much more):
"I'm concerned that we'll become so in love with the idea of justice & compassion, that we will forget to LIVE justly and act compassionately. Justice is not an accessory you wear when it's fashionable, it is something we have to live into; it reflects the character of God.

To solve the water crisis, end global poverty, bring justice, it's going to take every single one of us, EVERY SINGLE ONE OF US."
CHECK BACK HERE FOR LIVE UPDATES THROUGHOUT DAY 2!
11:00 A.M.: Representatives Ted Poe and Earl Blumenauer join the team to talk about the Water for the World Act, the importance, and how it is a bill that people from both sides of the aisle can come together on. Here we go!
1:00 P.M.: meeting with Representative Adam Smith's office. He is a big supporter if WASH issues, World Vision, and a potential Water for the World Act cosponsor!
1:45 P.M.: Reports are coming in! Many, many visits with offices today. Some did not even know about the Water for the World bill and we were able to educate and inform them about the bill and its impact. Other offices were excited we were out there for this key issue!
2:30 P.M.: 25 advocates arrive at the White House for a briefing with Melissa Rogers, Special Assistant to the President and Executive Director of the White House Office of Faith-based and Neighborhood Partnerships. She talks about 'Bread and Butter' advocacy. People think that simple things, like making a phone call or sending an email don't matter, but they do — they have a real impact.
2:50 P.M.: A group meets with a Texas representative's office who voted against the Paul Simon Water for the Poor Act of 2005. The meeting started with tough questions, but by the end they were told, 'If everything you have said is true, the Representative will cosponsor the Water for the World Act!
3:30 P.M.: Advocates meet with Representative Adam Schiff from California. On. The. Spot. — NEW COSPONSOR FOR THE WATER FOR THE WORLD ACT!
4:15 P.M.: A group meeting with Representative Mike Fitzpatrick from Pennsylvania are asked if they would like to go to the House Floor to meet Representative Fitzpatrick in person! The group heads to the Floor to ask him to cosponsor the Water for the World Act in face to face!
6:30 P.M.: The group meets at the Hard Rock Cafe for an exclusive performance from Jars of Clay! Before the concert, advocates share a day of successes. Many say that they didn't realize that advocating would mean so much, that they could have such an impact. Eugene Cho summed it up — "When you come to DC, you see so many people on the hill, and they are all there for a reason. However, poverty does not have lobbyists or resources and that's why we are needed as advocates. Politics matter because it impacts policy and policy impacts people and Jesus cares about people.
Photo: Partners from Blood:Water Mission, Living Water International, Food for the Hungry and Water 4 discuss the effectiveness of partnerships. © 2014 World Vision/photo by Garret Hubbard