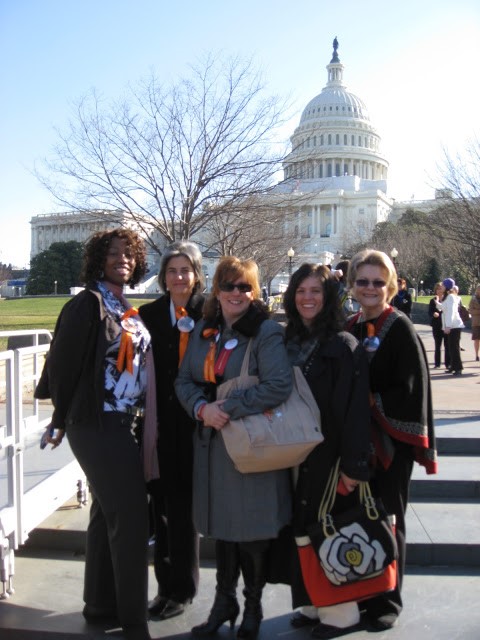 By Lauren Benedict
As she was tucking her five-year-old son into bed, Cathy told him he should pray. He responded, "Mom, God doesn't answer prayers." He was referring to his unanswered prayer for God to help starving kids in Africa. Shocked, Cathy replied, "Sometimes we have to be the answer to prayer. Sometimes we have to be part of the answer." Convicted by her 5-year old son's prayer to help others, she began her journey of being God's hands and feet, in particular, through advocacy!
In the spring of 2010, Cathy attended a Women of Vision – a volunteer ministry of World Vision – Heart of the Matter Study, where she learned why God sent Jesus into the world: "The Spirit of the Lord is on me because he has anointed me to proclaim good news to the poor. He has sent me to proclaim freedom for the prisoners and recovery of sight for the blind, to set the oppressed free" (Luke 4:18). She also learned about mothers around the world who, just like her, wanted fullness of life for their kids. As a mother of four young children, her heart was broken by the injustices, and she recognized that the Spirit of the Lord is upon her, too.
With organizations like World Vision supporting her, Cathy finds advocacy easy to do, even amongst the chaos of daily life. By subscribing to the World Vision Advocacy Newsletter, Cathy receives emails about the issues and is prompted to take action. With the click of a button, she can easily sign a petition, send her Congressperson an email or tweet, or call them using a phone script in between her activities. Advocacy is also something she can share with her friends and family, which makes it enjoyable! By simply educating them about the issues, they were eager to learn more and help. Her family has gotten involved in all kinds of ways, including writing letters to the President, organizing community events, and publishing pieces in their local paper! Cathy also has a group of friends through Women of Vision, where they have a monthly advocacy call and promote advocacy actions via social media. Cathy says, "Organizing a circle of like-minded individuals to tackle these projects is fun and less burdensome. Ask God to connect you with like-minded believers then hang on for an adventure!"
One of Cathy's favorite ways to advocate is to call or meet with her federal Congressional Representatives. She'll admit that it was intimidating at first, but the reality of it is that most elected public servants appreciate hearing about bills regarding important humanitarian issues. Plus, your one phone call or meeting is often worth 100 since many people do not call, yet still feel the same way you do.
Cathy's efforts are not wasted – she was able to help make the Girls Count Act, Water for the World Act, and Trafficking Victims Prevention Reauthorization Act become laws through her advocacy!
If you are considering advocacy, but are still hesitant, Cathy wants you to know that even though the overall outcome is God's responsibility, He is asking us to be available and get involved as He leads.
Photo: (Photo courtesy of Cathy White.)