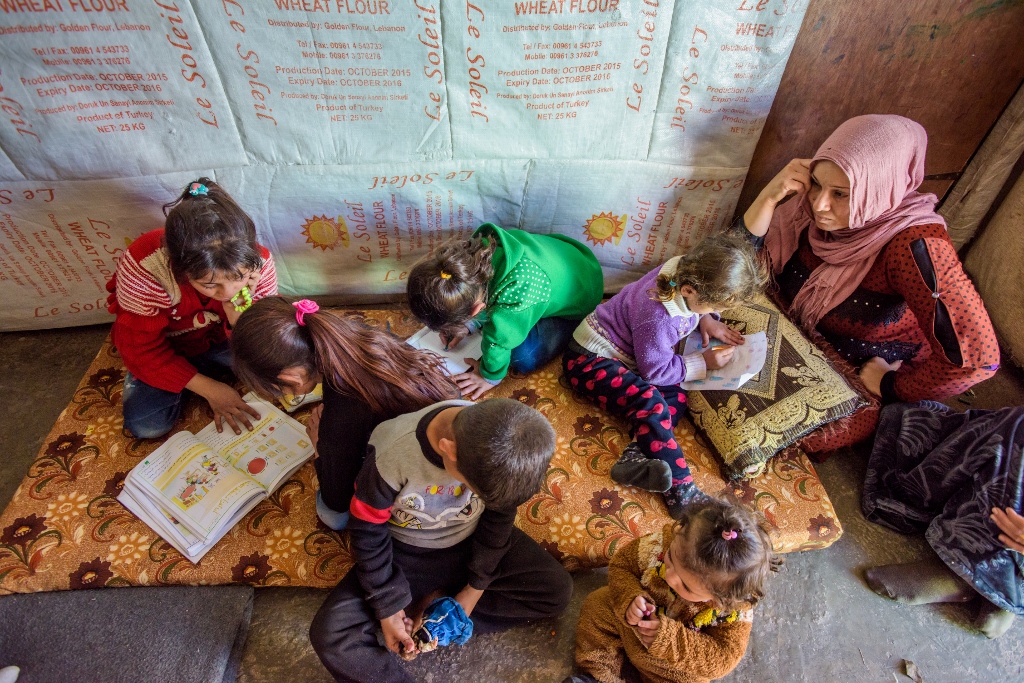 Jana Mastrogiovanni is a wife, a professional, an athlete, a Christian, and a mother. Motherhood is something that bonds millions of women around the world, yet no one is ever quite prepared for the way it consumes your life with love and chaos — a universal experience no matter where you are from.
Contemplating a to-do list not her own, Jana realizes that while her life is very far from that of a woman forced to live as a refugee, in many ways their days are the same. Regardless of circumstance, there are things that remain universal for moms everywhere — such as preparing meals and tucking your children into bed. How do their days compare?
"I don't know how she does it" — A Refugee Mom's To-Do List
Shower and Get Ready for the Day
Our "home" doesn't have a bathroom, so I pack my things and go outside to wait for the shower. As many as 50 people share one bathroom. It's not feasible to shower every day, and we often wear the same clothes we slept in. There's not much privacy. It makes me nervous, both for myself and my 11-year-old daughter.
Jana: We have one bathroom in our house. I am definitely rarely in there alone — but I don't have to be in there with strangers; it is not our whole neighborhood. Leila (age 2) loves to be without clothes, like most kids her age, but the older they get … I can't even put myself in that situation. I am very modest myself. Even at the gym I rarely change in front of others.
Clean the House
Fold and pile up sleeping mats and blankets from last night. Our family of seven shares one tent — so the one room we have has to work. We leave shoes at the door, but the floor is dusty when it's dry and so muddy when it rains. I feel like I'm always cleaning. I work hard to keep the tent clean and make it a better place to live. I found flour sacks in the garbage and sewed them together to make walls for our tent, and I found some fabric to make the inside look better.
J: Things are challenging now. I have a working washer, dryer, and dishwasher. Without these things, I would lose out on things I want to do; time with kids — I wouldn't have time to just enjoy my kids. Making time to do this can already be a battle when I work from home and I'm not able to make them my sole focus.
Sometimes my place looks like we haven't cleaned in days! With a toddler, everything she gets into can look destroyed. The cleaning up of toys, food, and laundry is a revolving door all day long. Doing dishes are Nick's and my least favorite thing — they are constantly there.
Take the Kids to School
In our tent settlement, there's an early education center. It's run by one of the aid groups working here, and it helps kids get ready for school. If they're not ready to transition into the Lebanese school system, they get left behind. Frankly, we're lucky to have it — not every camp or settlement has access to a place like this. But my son Omar just stands in the door watching the other children playing. He's so hesitant. Sometimes he takes a few steps in, and I can tell that he wants to stay, but he can't quite do it.
J: Leila just had her first school picture; it is so cute! I know it is a little silly — she is still so young, and it is not real school or anything yet, but she just loves going so much and has so much fun. All of the kids are standing in their rows. She loves being able to see her friends and teachers and on her days off she always asks about when she will be going back.
Prepare Meals
"Yes, we're having potatoes for dinner again." It's the one thing we can afford that will actually feed all of us. It's an afternoon event to get everything peeled, cut up, and cooked. I cook over an open fire. In some places, people can at least access a shared single burner. Either way, it's a lot like camping. Believe me, camping stops being fun after you've been doing it for months or years.
J: Cooking, eating, and cleaning happen all day long — the whole process. Tallulah (9 months) is learning to eat, so it is a huge mess. Leila has her own little table. The amount of time that goes into cooking, eating, then cleaning is crazy. Even going to the store to get food seems like a continuous task.
I try to save chores for when they are asleep or bring Leila in to "help" in the kitchen — including her so I can do more when she is with me, so we can be together. Luckily they still think everything is all fun. Soon she won't, and it will become even more difficult.
Check in with My Husband
My husband is the eldest son, so he stayed in Syria to care for his family. The place is under siege, he says. There are raids, bombs. We're constantly afraid for his life. Kids need a father. They need to feel protected and provided for — to feel like their family is complete. They miss him, and I really wish he were here with us.
J: If you're a caretaker, it can already be difficult balancing time, aligning naps, schedules, being available. When they (the kids) are awake, I want to be with them.
I just couldn't imagine it being any harder. My husband works, but he is flexible, and he can pick up the pieces when I am stressed. sometimes we feel like we need more help.
It is enlightening. Refugees are stereotyped as being so different than we are, coming from a completely different place. I did not realize that before the war, these families were so much like mine — living in the same types of neighborhoods, with the same types of jobs, and having the same luxuries I take for granted now.
Honestly, when you talk to all of us moms, we are so consumed with being a mom and caring for our kids, it is hard to make time for things outside our lives. They lose importance — but they shouldn't.
Days as a mom can be consuming, but I am learning that helping other moms, such as the mothers affected by the conflict in Syria, can take just a few minutes. Sometimes those minutes are hard to find, but putting myself in their shoes, I think that doing so is really important.
Here are four things you can do to help, in four minutes or less.
Read and share, "I don't know how she does it" — A Refugee Mom's To-Do List to help raise awareness of the conflict in Syria, now in its sixth year, which has affected over 12 million people. Post on your social media channels.
Contact your members of Congress. Ask that they support strong funding for humanitarian accounts that support refugees in the Middle East, including not making any cuts to these accounts.
Become a Refugee Responder. Commit to an ongoing monthly donation — a pledge to provide ongoing support for those whose lives have been torn apart by this crisis.
Pray — for open hearts to provide life-saving assistance along with child protection, education, and opportunity for the millions of children and families in need.
Photo: © 2016 World Vision/ photo by Jon Warren