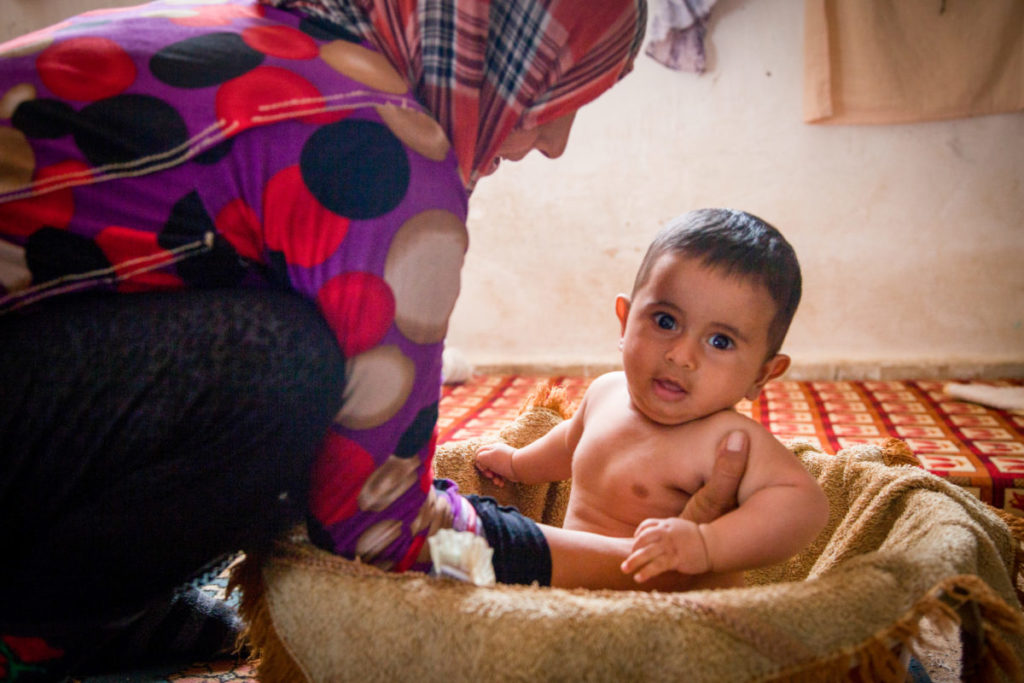 Gracious Lord, awaken us to the needs of Syrian children and their mothers and fathers. Let us not grow weary in doing what is right and good in Your eyes. Remind us to engage on their behalf as we would if it were our own families who were suffering. Help us be advocates for peace in this troubled land and open our hearts and wallets to pray and give gifts to help. Amen.
The war in Syria is in its fifth terrible year. Children are among the main casualties of this humanitarian crisis, making up 5.6 million — or half — of Syrians in need of aid within the country. Another 2 million live as refugees outside Syria. Displaced and refugee children are disproportionately vulnerable to malnutrition, illness, and exploitation.
Every so often there is an event — a picture, a news story, or underlined tragedy that brings Syria to the attention of us all. Recently these events have been coming more and more frequently. We pray for people affected by senseless killings, refugees forced to flee, and children who know nothing but a life of war. And, we must continue to hold to our values as Christians, humanitarians, and Americans and not let fear become the catalyst for decision making.
In a survey conducted by Ipsos Public Affairs on behalf of World Vision, Americans were polled before and after the Paris and Beirut terrorist attacks on whether they were willing to help Syrian refugees. Seventy-two percent of Americans surveyed say they are willing to help Syrian refugees moving forward, a slight increase from 71 percent in the October survey. Further findings include:
67 percent of Americans rate the Syrian refugee crisis as somewhat or very important to them
71 percent of Americans state that they would be willing to help Syrian refugees in the future
However, only 37 percent of Americans report that they have taken any action to help Syrian refugees (including prayer or advocacy) – and of those, only 13 percent have donated cash or supplies.
Unfortunately, the opposite message is being given the loudest voice in the media. The loudest message has influence, including on our elected officials. They are our voice in Congress and when critical decisions need to be made, they make the choices they think their constituents want. Right now, that needs to be a choice of compassion over fear.
The world is uncertain. We may face fear that our lives will become like the lives of the more than 12 million Syrians who have been displaced from their homes; that the faces of our children could one day easily be interchanged with the faces of the refugee children we see on the news. However, our God is a God of compassion and this is the voice that needs to rise above the noise.
Be a voice of compassion over fear. Call your senators [action expired] and share that you believe in the principles on which our country was founded, and now is not the time to be driven by fear. Tell them that you stand with the victims of violence and terror — no matter where they are from. Ask members of Congress to keep the support of refugees in mind as their office makes important decisions.
We will give you everything you need, including phone numbers and a call script.
Make a phone call now [action expired].
Photo: In Lebanon, a mother living in a refugee camp is grateful for a World Vision program that has helped bring water and latrines so her family can have improved hygiene and she does not have to worry about her baby being ill. The mother points out how hard it is to maintain the same level of hygiene. © 2014 World Vision/ photo by Ralph Baydoun