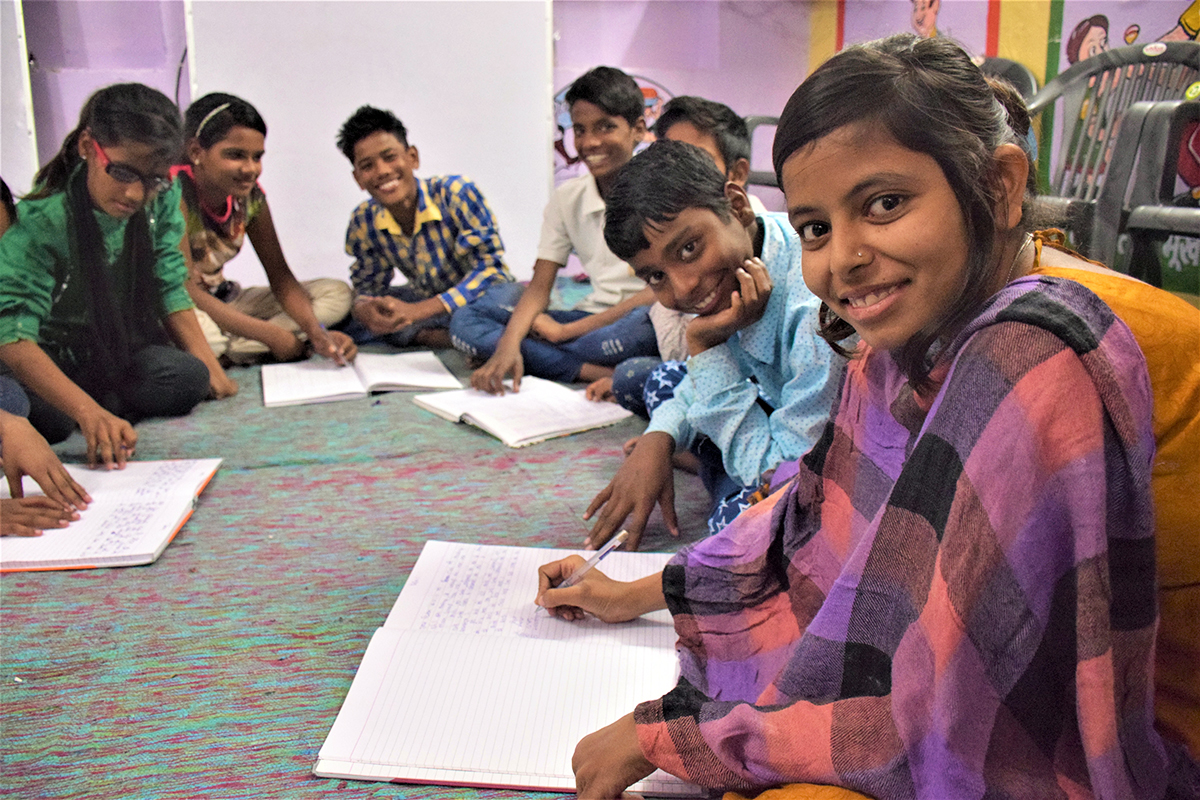 By Neola D'Souza, World Vision India
"If it wasn't for Udaan and their quick financial aid, my studies would've stopped," says 21- year-old Anjali Meena.
"Udaan" — which means to soar, fly, or take off — is a group of motivated young people in the World Vision's Jaipur Area Development Program (ADP) who aim to be agents of change and social transformation in their community. They are an example of how children and youth can champion child protection within their communities by monitoring the progress of both World Vision-sponsored children and families and the entire community.
A few years ago, Anjali's father's brand-new rickshaw was stolen. With the help of the members of Udaan, she filed a police complaint and they were able to find the vehicle — however, the engine and parts has been taken out.
"It was a difficult time because my father was the only earning member," says Anjali. She would have had to drop out of school and start working to support the family because of their financial situation.
"It was during this time that Udaan loaned us money to get the auto repaired and for my father to rent another one for $3 USD per day, so that we could have some daily earning to run the house."
Anjali is an active member of Udaan and is also a teacher in the Remedial Education Centre (REC) for World Vision India. Inspired by the work and people she meets through World Vision, she wants to complete her Master's in social work.
"When I was not associated with World Vision, I didn't have a voice," says Anjali. "It was only after attending a training that I learned a lot about myself, about my needs, and what I need to do for myself in order to succeed."
Doing more through empowerment and advocacy
Rizwan Khan, president of the Udaan group, says, "We have been part of World Vision since a young age, either through the children's club, trainings, or through the child sponsorship program, but we wanted to do more. That's when we consulted the World Vision staff, who guided us to form this youth group."
The group currently works in four communities and is connected to 21 children's clubs and 341 registered children. They meet on the first of every month to discuss and take up any issues brought forward by the leaders of the local children's club or other members of the community. They recently opened their own bank account and each member contributes $1.40 per month. This money is used by the group to provide no-interest loans to any group members and families in need, like when Anjali's family needed assistance.
In the year that Udaan has been running, it has handled cases that required medical and financial assistance; participated in identifying and enrolling several children into schools; conducted awareness workshops for children on personal safety; and organized rallies and street plays on education, child rights, and sanitation.
According to some Udaan members, some of the biggest changes observed in the community are increased awareness about the need for education, enrollment of children in schools, reduction in child labor, awareness among children about personal safety, empowerment of the youth, and increased participation of the community in solving local problems by demanding better roads and sanitation facilities from the local municipal corporation.
When asked if the group faces any opposition for taking such bold initiatives, one member says, "The adults listen to us. There are some parents who still don't want to send their children to school. But then we give them our example: If our mothers didn't send us to school, then we wouldn't be able to achieve so much and help them. We explain to them that when their kids grow up, they can be like us."
A helping hand
The younger leaders of the local children's groups still feel that it takes a while for their voices to be heard. So when they're faced with a difficult problem, they approach the Udaan members for support and guidance.
"There are some things that we feel uncomfortable to discuss with our family," says 16-year-old Sitara Khan, a World Vision-sponsored child and a leader of a children's club. "We feel more comfortable to discuss these issues with the Udaan group members because they are slightly older to us. Parents generally ignore it or tell us to forget about it — like how many girls stop going to school because of being harassed. But now because we spoke about this issue, even teasing has been reduced in the community to an extent, because now girls know whom to approach."
"World Vision is with us, so we need not worry. We are doing good work so we don't have to get scared," says Ayaan Khan, another member of the children's club.
Inspiring future leaders
"Community members see our work and know that we raise a voice against certain issues like child labor and domestic violence, and they think twice before indulging in such violence, because they know that community members will report such issues to us," says Rizwan Khan.
"Today we are leading the group, but tomorrow we want the children's club to take the lead and we will guide and support them. We want to develop a chain of leadership in our communities," says Rizwan.
Despite being a relatively new group, Udaan hopes to acquire more training and skill development along with networking support through World Vision to fulfill their aim of expanding their work to all 20 communities where World Vision is currently working within Jaipur and even outside Jaipur someday.
"We know that World Vision can't stay with us forever," says Sitara. "We are the future of our community. We will take forward World Vision's work."
"We know that World Vision can't stay with us forever. We are the future of our community. We will take forward World Vision's work."
Click To Tweet
Photo: Sitara Khan, 16, and other members of a Jaipur children's club. Their group, along with the Udaan group of young adults, promotes advocacy and youth empowerment in their communities. ©2018 World Vision, Neola D'Souza.