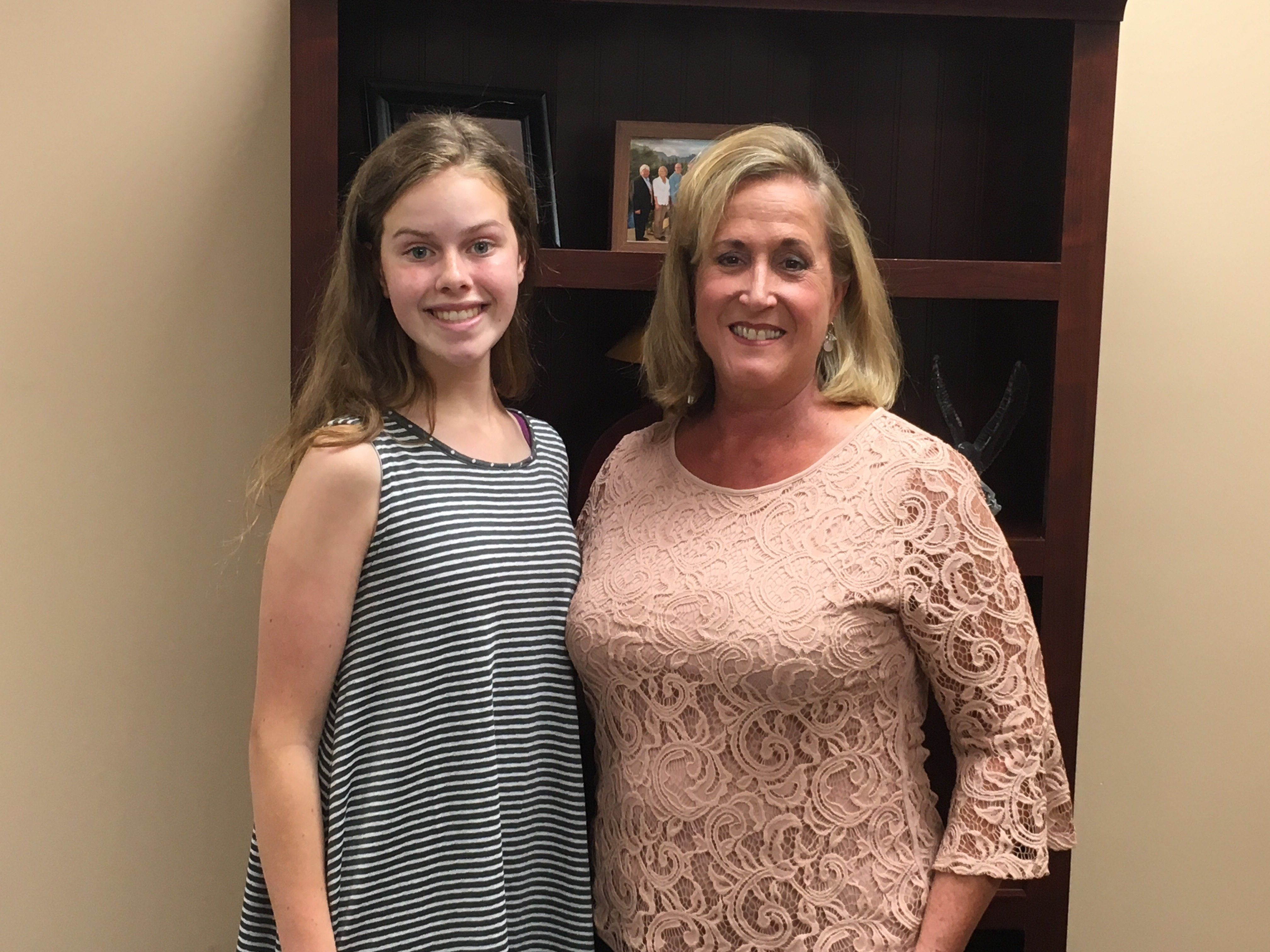 It all started with a gift.
Last Christmas, 16-year-old Lucy Besch of Missouri received money from her parents to start sponsoring a child through World Vision. The child's name is David – he's 8 years old, lives in Kenya, and he and Lucy share a birthday. To continue sponsoring him, Lucy uses all of the money she makes babysitting every month. She and David use snail mail, so their letters take awhile to get to each other – Missouri to Kenya is quite a distance! But from one of David's letters, Lucy learned that his community was seeing a lot of improvement through World Vision's programs there and she wanted to learn more… and maybe even DO more.
Lucy found herself on worldvision.org, reading about the many ways World Vision fights poverty around the world – including advocacy. Intrigued, she emailed the World Vision Advocacy team, unsure if she would be able to help much.
"I didn't think I would be able to do it because I'm not even old enough to vote," says Lucy. "At the time I started, I wasn't even able to drive!"
But of course, advocates come in all shapes and sizes – and ages. World Vision Advocacy describes its efforts as "a community of ordinary people who desire to follow God's call to seek justice." And Lucy has that desire in spades:
"If David's in need, I want to do all I can to help him," she says. "I have a lot of blessings and opportunities just because of where I was born, and other people don't have opportunities just because of where they were born. So I feel like, as a Christian, God wants me to do what I can to help others."
The Advocacy team reached out to Lucy and provided her with the resources and confidence she needed to take action. Soon, Lucy was calling her state representative's office to schedule a meeting to discuss the issues that impact David and other children around the world.
"I was worried because I'd never done anything like that before," Lucy says. "But I was glad to find out that I didn't have to be too knowledgeable – I just had to be passionate about what I was saying and do my best!"
During her meeting at the office of Representative Ann Wagner of Missouri, Lucy spoke with a staff member about the issues that affect David and children like him. She also brought up House Resolution 910, which condemns violence against children and encourages the development of a strategy for preventing, addressing, and ending violence against children. Lucy describes that first meeting as relaxed and more like a casual conversation than what she'd imagined an official meeting at her representative's office would be like.
"I thought the meeting went well," she says. "I didn't know if anything would actually come of it or if the Representative would do anything about it. But she did!"
Indeed, shortly after that first meeting, Rep. Wagner's staff invited Lucy back to the office to meet personally with Rep. Wagner. And it was at that face-to-face meeting that Lucy got some big news: Rep. Wagner found Lucy's words and actions so inspiring that she agreed to cosponsor the Ending Violence Against Children resolution.
"I was so happy that she'd done it and grateful that she'd listened," Lucy says. "I was amazed that just by meeting with somebody, I'd set the ball rolling and made it happen!"
What's more, Rep. Wagner presented Lucy with an official Certificate of Special Congressional Recognition, in honor of her service to the community.
"Lucy and I share a passion for providing a voice for the most vulnerable," says Rep. Wagner. "I am incredibly impressed by her selfless focus and commitment to such important issues. With advocates like Lucy, we can work together to strengthen our community and make a better tomorrow."
Honored, Lucy acknowledges that – in more ways than one – she couldn't have done it without God.
"Both the Representative and the staffer I met were also Christians," she says. "That helped us to connect over the laws we were talking about and how, as Christians, we support them because of our Christian values. It helped to know we were on the same page about these things."
So what's next for the resolution? It was introduced in the House in May and currently has 39 cosponsors, a group that now includes Rep. Wagner, thanks to Lucy. It was also introduced in the Senate in August. Lucy plans on staying in touch with the Representative's office, both to encourage her to keep fighting for children and the world and to ask her to do even more.
Lucy hopes her experience will inspire other young people to use their voices for positive change. She urges other teens to understand that, even though they can't vote, their opinions matter to elected officials, who see them as the next generation. She also hopes that other World Vision sponsors take up advocacy, too:
"It's amazing what they're doing already by sponsoring children," she says. "By getting involved with advocacy, they could impact even more children. Through advocacy, we enable laws to be passed and things to happen to make World Vision's work more effective and more possible. It doesn't cost any money to be an advocate and by doing it you're able to help even more kids in addition to the ones you're sponsoring!"
And what's next for Lucy? Well, she has her driver's license now, for one thing! And she continues to babysit each month to earn the money for sponsoring David. While her experience as an advocate started with a Christmas gift, Lucy's time spent using her gifts of influence and compassion has her considering a path of public service.
"For awhile, I saw the government as pretty distant and as something that a lot of people argue over," she says. "But it was amazing to see that these leaders are so accessible and they're there to help me and others. I want to impact people, so seeing their work inspired me to consider going into that in the future."
"God has helped me so much in my life and I want to do what I can, and do what he calls me to do."
---
Want to join Lucy and other World Vision supporters in advocating for children around the world? Learn more about our Volunteer Advocate Community! You can also take action TODAY to support the Ending Violence Against Children Resolution.
Update: We are now asking Congress to introduce the Strengthening Efforts to End Violence Against Children Act, which World Vision helped write. It will elevate the needs of the children most at risk of violence and promote better research and data-gathering so violence can be tracked and ultimately prevented. Use the form below to ask Congress to introduce this act today!
Photo: Advocate Lucy Besch and Rep. Ann Wagner of Missouri.