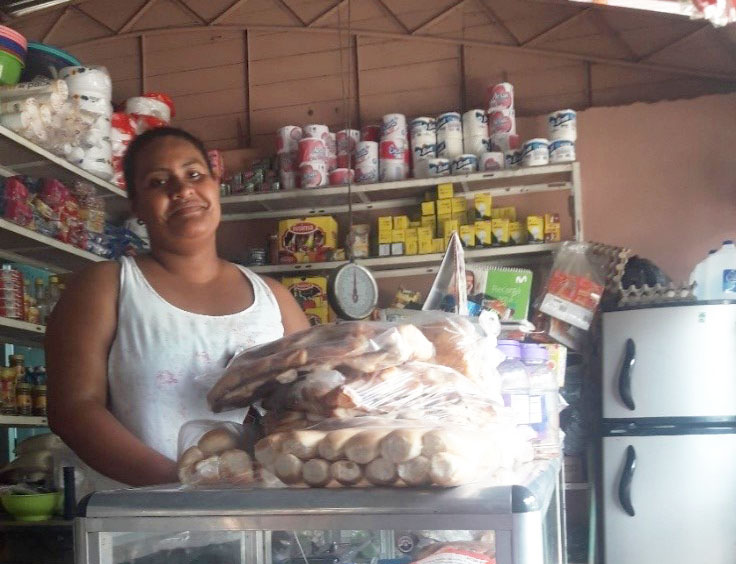 "Before, I did not know anything about what violence was. That is to say, I was in a blank space…"
Breydi (35) lives with her husband and family in the region of Siuna, Nicaragua. In her community, many women experience barriers to their participation in economic and social life. One of the greatest barriers they experience is gender-based violence.
Around the world, one in three women reports having experienced physical and/or sexual violence at some point in their life. In Nicaragua, women and girls are especially vulnerable to sexual violence: studies estimate that up to 50 percent of women have experienced some form of violence in their lifetime. When survivors muster up the courage to speak out, they often experience additional trauma from slow and inefficient processes in the justice system. Oftentimes, cases collapse and the accused are freed due to lack of resources, eliminating the chance for closure and increasing the risk of re-victimization.
What can be done to address such a big problem?
The Nidia White Organization, World Vision's local partner on the USAID-funded Prevent Domestic Violence, Promote Gender Equality, and Transform Communities (PPT) project, supports survivors and raises awareness to prevent family violence in Nicaragua. The PPT project focuses on both the prevention of domestic violence and provision of response services for survivors at the individual, relational, and community level. Nidia White and World Vision are utilizing an innovative range of evidence-based activities to tackle the complex problems and stigma surrounding domestic and intimate partner violence in Nicaragua.
Specifically, these activities aim to address the harmful gender norms that normalize domestic violence and minimize its impact on women, families, and communities. The project also works to help women and their families better understand the laws in place for their protection and referral pathways. Parents are supported in positive parenting classes and with increased awareness about sexual and reproductive health.
How do these programs affect people like Breydi?
Breydi and her husband have been married for 15 years. "Like all married couples," she says, "we have highs and lows; but there are problems that before I joined this mutual help group, I was not able to resolve and couldn't understand."
In the self-care groups organized by World Vision and Nidia White, participants explore gender roles, customs, and values that impact male and female relationships within families and communities. They are taught that men and women are created by God as equals and encouraged to treat each other accordingly. This training empowers both women and men to celebrate who they are, moves individuals and families towards healthier relationships, and contributes to reduced gender-based violence.
"Before [joining a group], I did not know anything about what violence was. That is to say, I was in a blank space; now that I have attended these sessions… I have increased my self-esteem, my awareness, and now I can support other women that are living in the same conditions of violence without understanding how it affects them, to give them advice on how to leave cycles of violence that they experience in their homes, to give them confidence, and the hope of change for their lives."
The cost of gender-based violence
Gender-based violence (GBV) is a horrific and widespread human rights abuse that prevents people, especially women and girls, from experiencing life in all its fullness as God designed. GBV occurs in many forms, including intimate partner violence; child, early, and forced marriage; rape; sexual assault; trafficking; female genital mutilation/cutting; and so-called "honor" killings.
Gender-based violence and discrimination costs everyone. If women are not healthy and safe, they cannot care for themselves, support their families, or contribute to their communities. Through the PPT project, World Vision has also trained 434 community leaders (including community judges, health advocates and leaders of territories) and 225 faith leaders to prevent and respond to instances of domestic violence in their communities. With the help of US government funds, World Vision is providing comprehensive service assistance to children, adolescents, and parents to reduce the incidence of domestic violence and improve recovery services for survivors.
Creating permanent solutions
The U.S. has become a key player in global efforts to decrease gender-based violence, but there is still work to be done.
Extremely high rates of GBV resulting from violent conflicts and migration necessitates an increase in funding to combat the issue.
Increasing American investments in women and girls is critical to ensuring U.S. global leadership, economic growth around the world, peaceful transitions of power, better outcomes for children, and more representative government institutions.
---
ACT NOW:
Ask Congress to support foreign assistance funding.