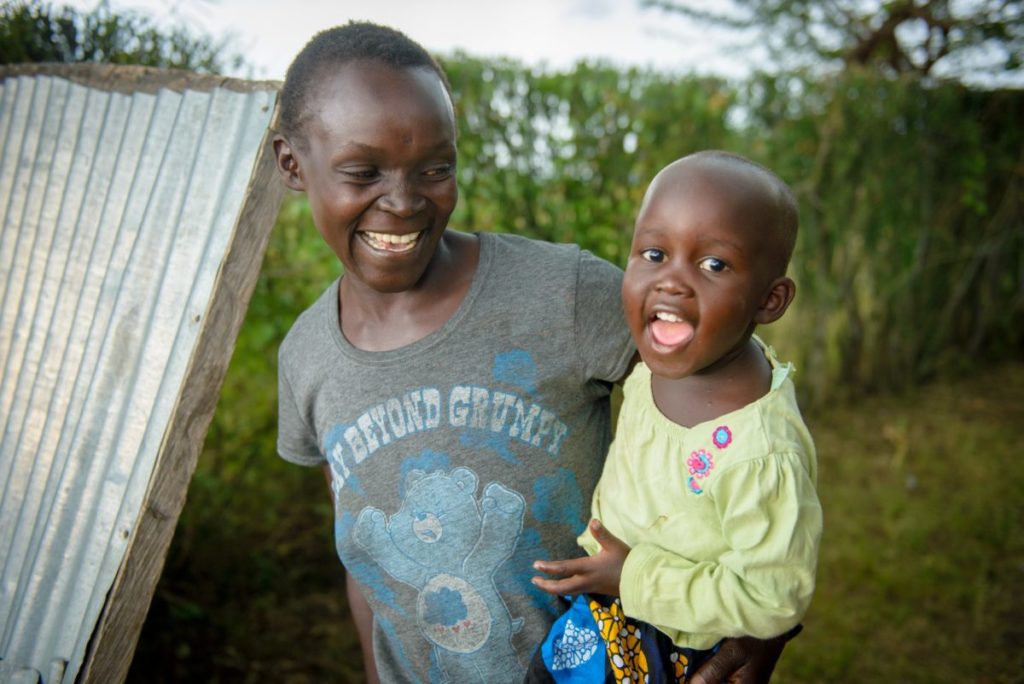 Earlier this month Lisa Bos, World Vision director of Government Relations, shared an update on U.S. foreign assistance programs. Today, in a piece originally published on The Hill, Lisa writes about how a meeting with a family in Kenya reinforced why these accounts are so important.
I first met John and Grace Onywoo in March. John and Grace live in rural Kenya and, like many, rely on farming for sustenance and their livelihood. They are the proud parents of three children: Steve John, Paul Gracius and Esther Hawi.
In Luo, the language of John and Grace's tribe, "hawi" means lucky or blessed. Esther is a blessing because prior to her birth, John and Grace lost two children not long after their first birthdays. Esther was the first child in the family born in a hospital and the first to be immunized. Esther is now 2, a vibrant and healthy toddler.
But another reason Esther is alive and healthy, and so is her mother, is that before Grace became pregnant, she was visited by a community health volunteer (CHV) trained by World Vision who told her about family planning. The CHV told Grace that having children spaced too closely together was part of the cause of her poor health and the poor health of her children. The children that died were malnourished, in part because Grace had not had adequate time between the births to regain her strength, but also because she got pregnant too soon to be able to breastfeed the child she already had. So the two babies, born too closely together, were weak, sick and underweight. Both died not long after their 1st birthdays.
Sadly, this is true in many families in the developing world. Culture, religion and myths drive them to have many children, regardless of the health impact. Parents lack information about why timing births to a mother's healthiest years (ages 18 to 35) is important and why spacing children by at least three years gives them the best chance and best start in life. They lack access to not only the right family planning information about why to time and space their pregnancies, but also to the correct information about family planning methods that can be used consistent with their religious and cultural views.
If all prospective parents had access to family planning, it is estimated that of the 5.9 million lives of children under 5 lost each year, 25 percent could be saved. That is nearly 1.5 million children in better health, giving their parents time to provide for the family rather than going to the health facility with sick kids. That is 1.5 million future doctors, lawyers, farmers, and teachers. That is the future of Kenya and other developing countries.
These are programs that the United States Agency for International Development's (USAID) International Family Planning account supports, working through partners like World Vision; lifesaving programs like those that helped John and Grace. Yet, in the House of Representatives this year, the International Family Planning account was massively cut.
According to John, when they heard about the health benefits of spacing pregnancies, "we embraced it and we agreed because of those sudden deaths, those unfortunate ones, we needed a break. So we had a break like one year, then Esther was born." Grace added, "traditionally, the culture is that having many children is like you being wealthy, but the reality on the ground was that you find you have many mouths that you could not feed. And right now with the sensitization on family planning, as now we are better off because we have mouths that we can feed — compared with the tradition saying you have many children, yet you could not feed them."
There are thousands of couples like John and Grace who will continue to bury mothers and children without family planning. Congress must do the right thing this year and give strong support to these vital and lifesaving programs.
Read the original piece here.
Photo: Grace and Esther 'Hawi' stand by the gate of their home. © 2016 World Vision/ photo by Laura Reinhardt