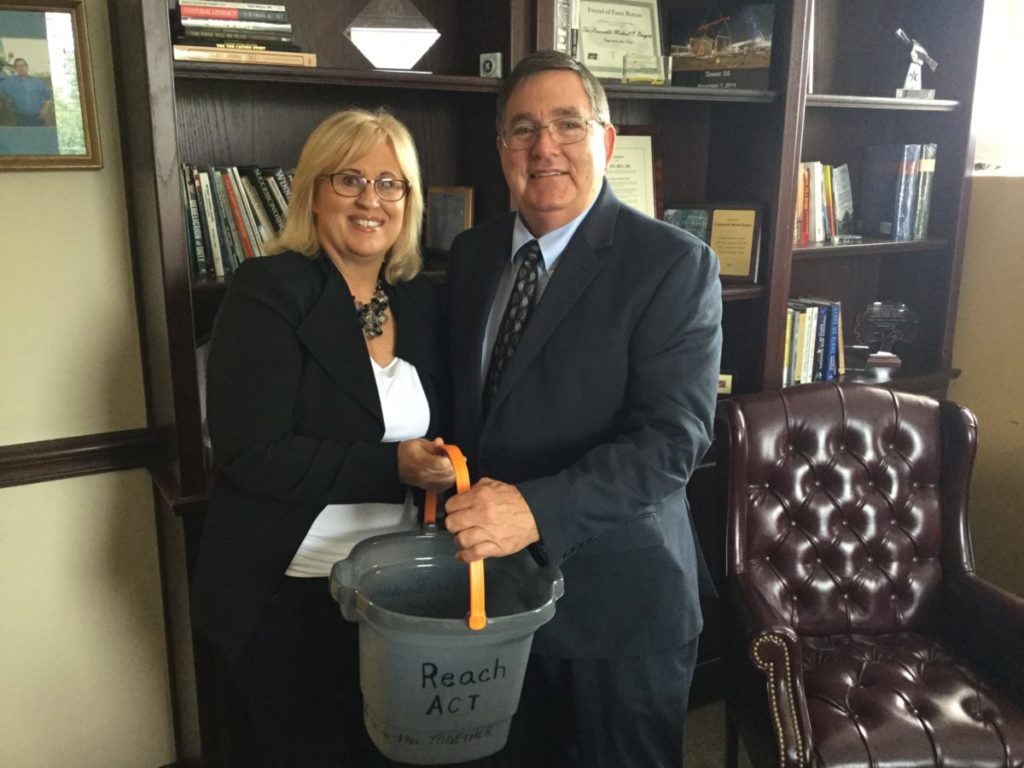 Leigh Sides, an advocate from Flower Mound, Texas, wanted to know, "How can I be useful?" She asked God, "Whatever it is you want me to do, I want it to count." A month later, she received an email from World Vision's Advocacy team asking her to sign up for an in-district meeting with her member of Congress.
"I knew that it was what I wanted to do," says Leigh. "It was a great opportunity to partner with the Lord – to seek him and do this. That's why I did it. Because I wanted to serve in a capacity that would have some effect for those around the world."
As someone who has advocated for business issues, Leigh was ready to dig in. She invited people from her home group, friends, and family to join, but she had no takers. However, she wasn't deterred.
"I pursued his office and found out I needed to pursue someone in Washington D.C. … I wanted to be persistent." After waiting several weeks, a staff member told her she could meet with Congressman Burgess in Dallas.
Leigh prepared for her meeting. She spent time reviewing her representative's website, learned about the issues he is passionate about, and read the names of all the bills he co-sponsored to give her a better idea of what he supported and where their interests might align. While preparing for her meeting, she decided she wanted to leave the Congressman with something memorable.
"About 2 days before I went to my appointment, I thought about the concept of my 'mission' and asked myself 'What am I really doing?'  Well, World Vision has passed a bucket to me like I'm in a bucket brigade [to put out a fire] … I am supposed to pass it on to the Congressman, and he is supposed to pass it on to Congress."
So, on the way to her meeting with Congressman Burgess, Leigh bought a bucket and wrote on it, "The Reach Act: Eradicating preventable deaths from moms, newborns, and children."
Using what she had learned from her research, Leigh could relate the Reach Every Mother and Child Act to the Congressman's work as an ob-gyn who has won awards for maternal care. She shared with him that the Reach Act has lost momentum and needs more co-sponsors. The Congressman was receptive and made sure his assistant took note so he could research the bill.
"I said, 'I know that we have a lot going on domestically that can really take away our focus and make us not think about anyone but ourselves… Yes, we need to take care of domestic problems… but at the same time, we must remember those on the outside that are in the most impoverished corners of the world.'"
At the end of the meeting, she showed the bucket to Representative Burgess and asked him to pass it on to Congress. "We need a Burgess!" she said.
Leigh encourages others to advocate, saying, "For such a small investment what you can gain on behalf of the poor is amazing… I would encourage other people to do this! Representatives want to hear from their constituents, and it's a great learning opportunity."
When the meeting was over, Leigh took one extra step. She posted a photo with her and Congressman Burgess holding the bucket on Facebook and shared it with her church. "I told him I went to the Village Church, and when I told him that, I think it made a difference."
She is proud she answered the call to advocate. "There is something about meeting with your member of Congress. I am proud that I got to do that and see that I can make a difference… It made me feel very close to the White House, like I do have some influence."
Photo: Leigh Sides meets with Representative Burgess to advocate for the Reach Every Mother and Child Act. (Photo courtesy of Leigh Sides.)