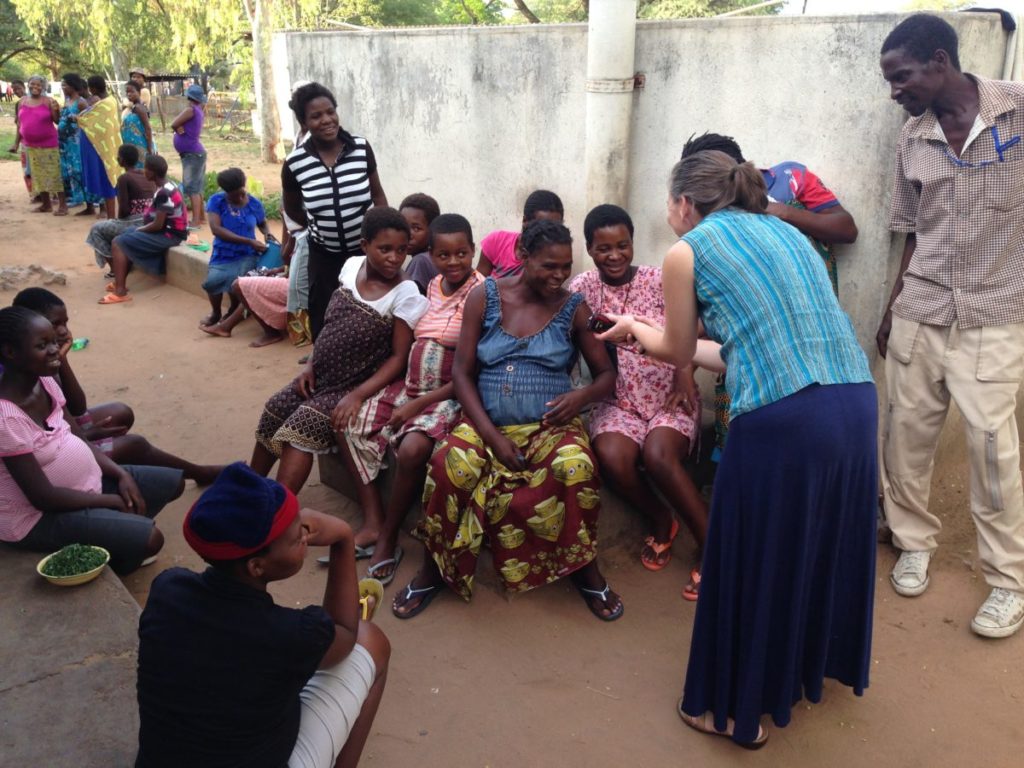 Why investing in U.S. foreign assistance for maternal and child healthcare is good for a country.
By Marian V. Liautaud
Why It Pays to Invest in Moms
What difference does it make if a mother on the other side of the globe lacks access to medical care during her pregnancy? And as sad as it is that children suffer from malnutrition, how can I, a Midwest mom, do anything to solve this problem?
These are some of the questions I secretly pondered as our group filed into the U.S. Agency for International Development (USAID) office in Harare, Zimbabwe. World Vision had arranged for our team, a band of U.S. citizens of different ages and life stages, to visit USAID Zimbabwe to learn about the impact of maternal, newborn, and child healthcare (MNCH) on the well-being of an entire nation.
As we listened to Bruce Abrams, Deputy Mission Director of USAID's Zimbabwe office, and his dedicated team of compassionate, competent professionals, explain the comprehensive strategy they use to "strengthen health services, increase food security, support economic resilience, and promote democratic governance," I was shocked at how little I knew about our government's process for budgeting and distributing foreign aid in general. And I was even more surprised to learn the benefits of supporting mothers as a means of promoting stability and economic growth in a country.
Here are some things I learned during our short course with USAID on international development — information I wish I had learned in my 8th-grade civics course, but which I'm glad I'm finally learning now:
Healthy Mothers, Healthy Nation
In FY16, the U.S. allocated $25.6 billion to poverty-focused development assistance. Though significant, it's only about 0.6 percent of the total U.S. budget — less than 1 percent! Most of this money goes to global health — to provide treatment for and prevention of diseases such as HIV/AIDS, malaria, and tuberculosis, and to help make maternal, newborn, and child health care more accessible to families.
Addressing the health needs of mothers isn't just a gesture of compassion; it's a strategic move to ensure the health of the entire nation. Zimbabwe has discovered what many nations also know: a healthy mother is the foundation of a healthy nation.
When a mother receives adequate nutrition and access to healthcare before and during her pregnancy, her chances of delivering a healthy, HIV-free baby go up considerably. And when a healthy baby has access to good nutrition and critical immunizations, she is much more likely to survive and thrive throughout her first 5 years of life. And a child who makes it past the age of 5 has a much greater chance of remaining healthy, which means she'll be more likely to go to school. Once a child is educated, the cycle of poverty is broken.
Despite a devastating economic collapse and food shortage that left millions of Zimbabweans impoverished, diseased, or dead, USAID has funneled millions of dollars to organizations, such as World Vision, that can effectively implement their strategy on the ground where it best serves the people most in need. For every dollar that USAID allocates to MNCH, countries like Zimbabwe will be better equipped to stand and sustain themselves for generations to come.
Seeing the passion these USAID workers bring to their jobs to serve people who are less fortunate made me proud to be an American. In a rare moment, I felt glad to pay taxes — or at least to know they're going in part to USAID's budget. More than that, I was encouraged to know there are real people — compassionate, competent professionals commissioned by our government — who care about the under-resourced and make decisions about how to steward U.S. tax dollars for their good.
Moms Like Me
Before visiting Zimbabwe, I didn't realize how much I'd have in common with the moms I'd meet. As we visited with women and children throughout World Vision's Lupane Area Development Program (ADP) and heard their stories of struggle and loss, it hit me — moms are moms everywhere. The same things that keep me up at night — the desire for healthy, happy children and the hope of being healthy enough to raise them into adulthood — keep these moms up too.
Their struggles are exponentially magnified by the political, economic, and environmental hardships they face. But there's a role I can play in easing this burden so that these moms and I can both attain the same goals: I can advocate on their behalf.
As a U.S. citizen, I can reach out to my congressperson, who has been elected to listen to and represent my concerns and let them know about the struggles these mothers face. I can share what I've learned about the benefits of MNCH for the overall health and stability of a nation. I have the right — the responsibility — to advocate on behalf of those who are counting on USAID and World Vision to keep doing the good work they do. And I can ask my congressman to support poverty-focused development assistance that improves the wellbeing of mothers, newborns, and children.
USAID may be our country's best-kept secret. But it shouldn't be. It's a story everyone should hear — especially our representatives in Congress. Let's tell it again and again until they know it by heart.
Marian V. Liautaud is a former editor of Today's Christian Woman and the author of War on Women. She writes frequently about global women's issues, and she serves as director of marketing for Aspen Group, a company committed to building churches for radical ministry impact.
Photo: (Photo courtesy of Marian V. Liautaud.)