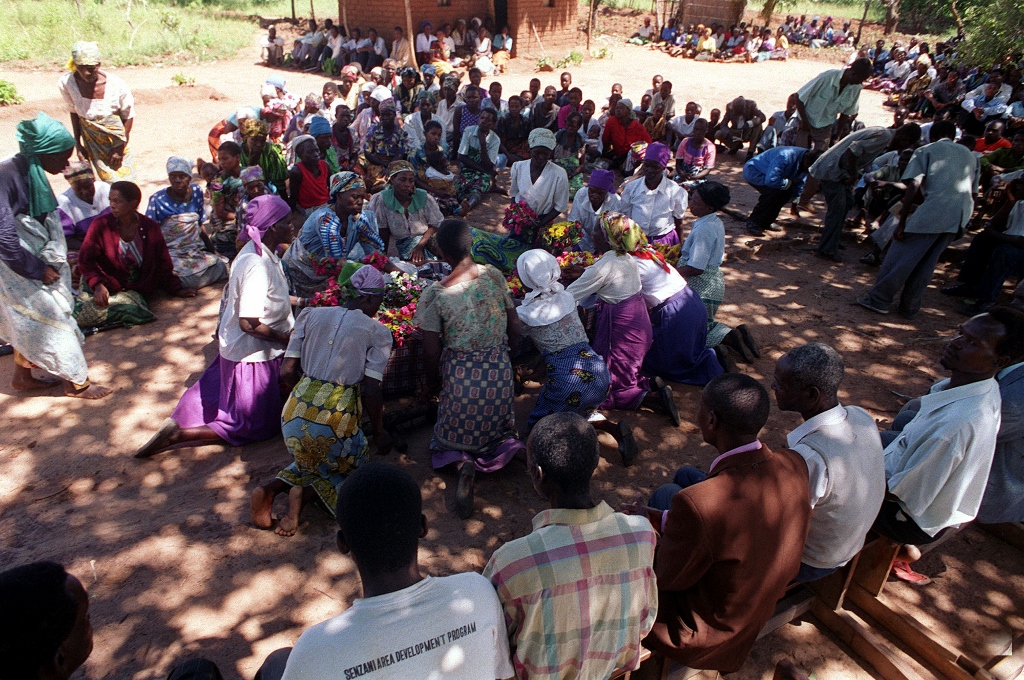 It was one of those hot, sweltering days in one of the countries in Africa when all you really wanted to do was sit in the shade and sip a cool drink.
We were in a tiny village in Malawi in 2002, and we could not have been at a more somber event – the funeral of a woman who had just died of AIDS. As the tragic scene unfolded, the reality of what was happening began to sink in. The woman's husband had died several months earlier, also of AIDS. With her death, four orphans remained behind, aged from 3 to 16 years. Her story was all too common: her husband had contracted the HIV virus while working in another country to earn money to support the family. He passed the virus on to her. They both died, leaving their 4 children EXTREMELY vulnerable to hunger, physical and sexual abuse, loss of their property, and any chance of an education or a brighter future.
And if that wasn't enough, here's the kicker. It was the local pastor's FIFTH funeral that day caused by AIDS. Think about that. Five funerals in one day in this one tiny village in one small African country. I could see the fatigue and hopelessness in his eyes as he dutifully carried out his difficult task.
My mind immediately began to do the math: How many villages were in this district? How many districts in Malawi? How many countries in Africa? As my eyes began to moisten, I thought of the Bob Dylan song… "How many roads must a man walk down, before they call him a man." "How many more funerals," I thought, "does it take for the world to wake up and do something about this global AIDS crisis?"
Thankfully, the world DID respond. Led boldly by the United States Government and supported by Christian Artists and churches, President Bush's initiative called PEPFAR – the President's Emergency Plan for AIDS Relief – appropriated millions of dollars to provide critically needed drugs and support to people living with AIDS in several countries around the world. World Vision advocated for passage of this landmark piece of legislation which has provided hope for many millions of people living with the HIV virus. Working hand-in-hand with government funded programs and other development partners, World Vision has helped stem the tide of new infections and provided compassionate care for people living positively with AIDS. Every day, thousands of caring community workers visit and care for those infected with the disease as well as orphans and vulnerable children.
For a while now, the world has seen good progress. New infections in some of the worst affected countries have declined between 51 and 76 percent since 2001. 11.5 million people are now on life-saving antiretroviral treatment thanks to PEPFAR. Programs are providing more help for less money than ever before.
But the latest news out of Africa is not good. According to the United Nations, AIDS is raising its ugly head again, especially among youth. New infection rates are not going down as predicted, remaining steady at about 2 million new infections per year for the past 4 years. New infections are actually rising in some high-risk areas and among some high-risk populations. One of these critical groups where AIDS is on the rise is among young girls. As many as 7,000 new infections a week are occurring among the most vulnerable girls and young women. In some communities, a 15-year-old girl has an 80 percent chance of becoming infected with HIV at some point in her life. Young women account for 74 percent of all new infections and AIDS is also the leading cause of death for girls in these communities. Addressing the needs of these girls is critical to controlling the spread of the disease. PEPFAR is supporting the needs of young girls through its DREAMS (Determined Resilient Empowered AIDS-Free Mentored Safe) Initiative and World Vision in implementing these programs in some of the target countries.
According to the United Nations, there are 37 million people worldwide infected with the AIDS virus. Yet only about 17 million are receiving treatment. That means that over 20 million people are infected but not receiving the drugs they need to control the disease and keep from spreading it to others. Experts agree this is a potentially deadly scenario which has the potential to reverse all the progress we've seen in the past 20 years.
As I think back to that tragic day in Malawi 15 years ago, the cries of those four orphans ring in my ears. What happened to them? Did they survive? Was the oldest girl forced to resort to prostitution to support her younger siblings? Did she become infected too? Was the youngest infected at birth? Did he survive? I do not know and can only imagine the gauntlet they faced.
But one thing I do know. The world cannot let the spectre of AIDS rise again as it did then. We cannot stand by and let this disease take the future of so many communities in Africa and other places.
In May, the President's proposed budget for FY2018 included a one-third cut to foreign assistance accounts. In the fight against AIDS, tuberculosis, and malaria, it is estimated that this could result in 240,750 fewer people receiving antiretroviral therapy to slow the progression of HIV and 69,750 fewer women on treatment to prevent passing HIV to their babies. We must fully fund U.S. foreign assistance so that programs like PEPFAR, which literally mean the difference between life and death for millions, can continue their progress. Take action.
Photo: Scenes from a funeral held in the community and the graveside service in Malawi. © 2002 World Vision/ photo by Steve Reynolds