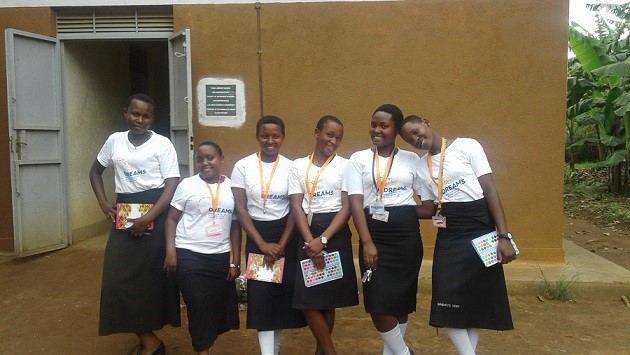 As a girl growing up in Zeeland, Michigan, I had a lot of dreams about what my future might look like.  There were the immediate dreams (making the basketball team, getting all A's) and the future dreams (going to college, finding a great career, having a family).  Some of those dreams were realized, and others weren't, but as a kid, I never felt like there were limits to what I could imagine or achieve.
I realize now, as I travel as a World Vision employee, how lucky I was to see boundless opportunity as a child and to have very few barriers to achieving my dreams.  Most girls around the world are not that fortunate.  For many, barriers of culture, gender norms, disease, and poverty are immense, and constantly stand between them and their dreams.  But I've also been encouraged by the way girls are being empowered to support one another and the ways communities are being forever changed through programs that work to help these girls make their dreams a reality.
I recently went to see a program called SAGE in Uganda, which is being implemented by World Vision.  SAGE stands for Strengthening School-Community Accountability for Girls Education and it is funded out of an initiative of the U.S. Government's Presidential Plan for Emergency AIDS Relief (or PEPFAR), which is focused on reaching vulnerable adolescent girls in areas where HIV infections are rising. The principle of the SAGE project is that girls can and do reach their full potential when they stay in school and have access to the services and support they need to achieve their hopes and aspirations.  While part of the goal is to reduce the number of girls who get HIV, the project also works to address issues of child marriage, early pregnancy, violence at home and in the school, menstrual hygiene management, and other issues that can contribute to girls dropping out of school – a documented risk factor for increased rates of HIV.
I wish I could describe how incredible these girls and boys were (yep, boys are involved in the project too!).  They were so excited to talk with our group, which included eight staff from the U.S. House of Representatives, about how the project was changing their lives and their school.  They shared how they support one another in little ways – walking together to and from school, talking about any issues they might have with a teacher or parent and giving one another a safe space of love and support.  They told us their dreams – being a doctor or an airline pilot – and how so many things in their community could come in the way of achieving their goals.
But at the core of it all was that all the students understood and were committed to staying in school and helping their peers do the same.  They were not blind to the barriers to their future but knew that without an education, that future would be limited.
It was incredibly inspiring to talk to Christine, one of the girls who acts as a "safety friend" for other girls – someone they can talk to and who acts as a peer mentor.  She acknowledged she had her own challenges in life but thought it was so important to find ways to support other girls.
I asked her, "Isn't that hard to do when you have your own problems and worries?"
She paused for a moment, and then she said, with an incredible amount of confidence for a 14-year-old, "I know I am young and that I don't have all of the answers, but sometimes there just needs to be someone to listen and support you in your dreams.  Doing that for other girls helps me to know that I can dream big too."
It makes me proud that the U.S. government is helping World Vision and its partners support girls like Christine.  It gives me hope that transformation and change are possible in the world through prayer, commitment, and support.  It reminds me that I can dream big too.
Photo: Peer leaders of St. Victor's SS Kitaasa posing for a photograph in their school. © 2017 World Vision