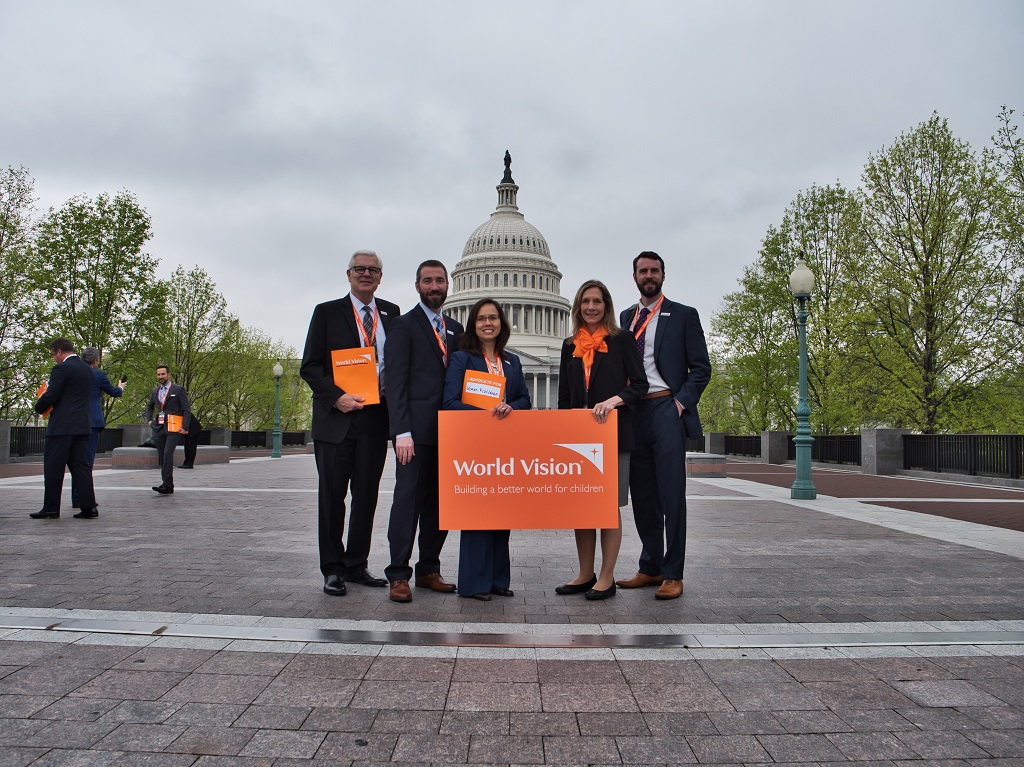 By Sandra Drury, Member, World Vision National Leadership Council 
It was just last year that I met and was so impressed by the World Vision Advocacy team. I was especially inspired by their message on how to steward our influence and our voices. My experience with them created in me an interest to learn more. So when they invited me to Washington, D.C. to join the Pastor and Influencer Advocacy Summit in April, I jumped at the chance – although I wasn't sure exactly what I was jumping into.
I am so thankful I did. This was perhaps one of the best conferences I have ever attended.
Our grounding Scripture for the summit was, "The only thing that counts is faith expressing itself through love." (Galatians 5:6 NIV) As such, the event provided us with a new expression for our faith (advocacy) and a new way to love others (ministering to our elected representatives).
The ultimate goal of the summit was to actually meet with our representatives and let them know that we want children everywhere to break free from poverty and experience life in all its fullness. World Vision reminded us that our politicians work for us, so we need to let them know what we care about. The team trained us in every aspect of advocacy: what to say, how to say it, how to educate our representatives, and most importantly, how to minister to our politicians. (I was surprised to learn that it is appropriate to ask if you can pray with your representative!) After a two-hour training session, we left for Capitol Hill, well-prepared for the task at hand.
The team advised us to expect the unexpected. And the unexpected is what we got! As we waited at the door of our congressman's office, next in line, he suddenly bolted out and declared, "We just got called for a vote; walk with me!" Thankful for my comfortable flats, we hurried along and chatted on the way. As we waited just outside the doors of the House chamber, our congressman walked inside, cast his vote, and then returned to us and picked up our conversation as though we hadn't stopped!  Wow – what just happened?!
I had several "aha!" moments during my time in D.C. First, I was amazed at how much advocacy is a core aspect of World Vision's ministry – and we have a vital role to play! Additionally, I was surprised to see so many other groups on Capitol Hill also advocating to their politicians. Their voices are being heard, and ours should be, too! Elected officials can only act on the issues we communicate are important.
Our political influence doesn't have to stop when we cast our vote. We can hold our members of Congress accountable and encourage them to help end global poverty. World Vision will guide you and give you all the tools you need to do just that. I've now seen first-hand how advocacy makes a difference, and how our impact is amplified; anyone can do it. Here are a few simple steps you can take to give it a try:
In Matthew 25:14-30 (NIV), Jesus teaches us with a parable to steward what God has given us for the sake of His kingdom. We often steward our money and talents; through advocacy, we can also steward our influence – for His kingdom and His glory.
Learn more about the World Vision Volunteer Advocate Community
Join us in advocating for children everywhere to experience life in all its fullness. We'll walk you through each and every step with resources and one-on-one support. Together, we make it easy — you can do this! Once you complete the sign-up process, look for an email from the Advocacy team with your next steps. Get ready to make an impact and experience God in a whole new way.
Photo: Advocates in Washington D.C. at World Visions Pastor and Influencer Advocacy Summit. © 2018 World Vision/ photo by Genesis Photography