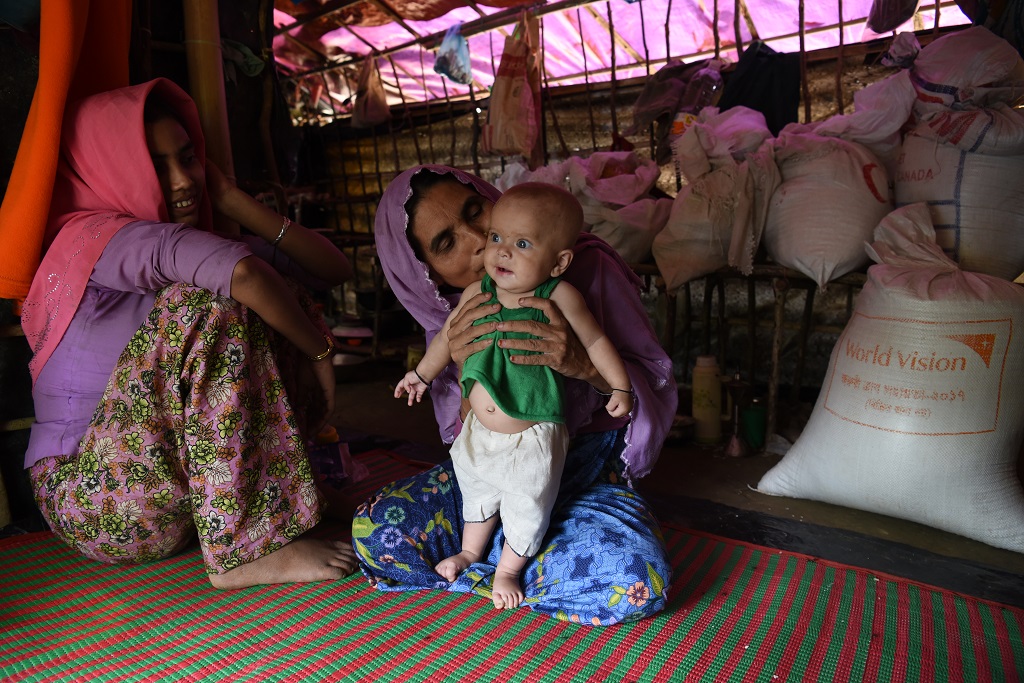 Story by Juliet Mondol, Communications Officer, WV Bangladesh. Juliet visited one of World Vision's Women and Young Child Spaces in Bangladesh where refugee women share their experiences, feel valued, and receive support raising healthy babies. 
---
It was raining slowly and a chilly cold wind was blowing outside. Inside World Vision's Women, Adolescent, and Young Child Space (WAYCS), Amena was sitting and holding her one-and-a-half-year-old child and feeding him lovingly.
"I feel uncomfortable to breastfeed my child in front of so many people," she said. "But here we have got a very private place to breastfeed our children so I can breastfeed when my child is hungry."  Amena, 25, is one of the 3,600 lactating and pregnant women who comes and attends sessions at WAYCS, which was set up by World Vision in Balukhali Makeshift Area, one of the nine locations where World Vision works under its Myanmar-Bangladesh Refugee Crisis Response Program.
The pregnant and lactating women at the WAYCS have access to a safe space to breastfeed, gender-sensitive WASH facilities, supplementary blanket feeding, and food aid via high-energy biscuits for young and adolescent children.
Breastfeeding education gives moms confidence
"If I didn't come here, I would never know that within one hour of the birth of the child, I have to breastfeed my child," said Jahida, a 27-year-old pregnant mother. "As I know this now, I would definitely breastfeed my child with one hour of giving birth. So that my child would be healthy and he won't fall sick easily."
Another lactating mother, Ambia, 27, said, "Here I learnt how to feed and take care of children. I also learnt about how many times I need to breastfeed my child and what the proper process is."
Mothers like Amena, Jahida, and Ambia are definitely success stories. Their presence at the WAYCS inspires other women and lactating mothers in need to feel safe and empowered and therefore helps to mitigate the challenge of survivors feeling comfortable presenting themselves and accessing services and support.
A safe space for breastfeeding — and belonging
"For a moment of time, I can forget about the pain we went through in Burma during the violence," said Sabequnnahar, 32. "Here I can talk and share my sufferings with other women and have a good time. …We are being valued."
Although the need for food and other basic supplies remains huge, centers like this one play a vital role in helping lactating mothers with providing safe space for breastfeeding. They are also a place of intercultural learning as many of the women come from different backgrounds.
More, the WAYCS also offers malnutrition screening. Malnourished children are referred to other centers where the mother can get nutritional support for the children.
To date, World Vision has reached around 351 pregnant, lactating women and adolescent girls through 10 health education sessions. Currently, WAYCSs are fully functioning at Balukhali, Barmapara, and Jamtoli to help care for mothers and children who are far from their homes.
Learn more about life as a refugee in Bangladesh. 
---
Stay informed about humanitarian issues around the world:
Are you interested in raising your voice for justice for people in poverty? Sign up for World Vision email updates about important issues and actions you can take to make a difference. 
Photo: The Women and Young Child Spaces (WAYCS), set up by World Vision, cater to pregnant and lactating women and children under 5. ©2018 World Vision, Annila Harris.