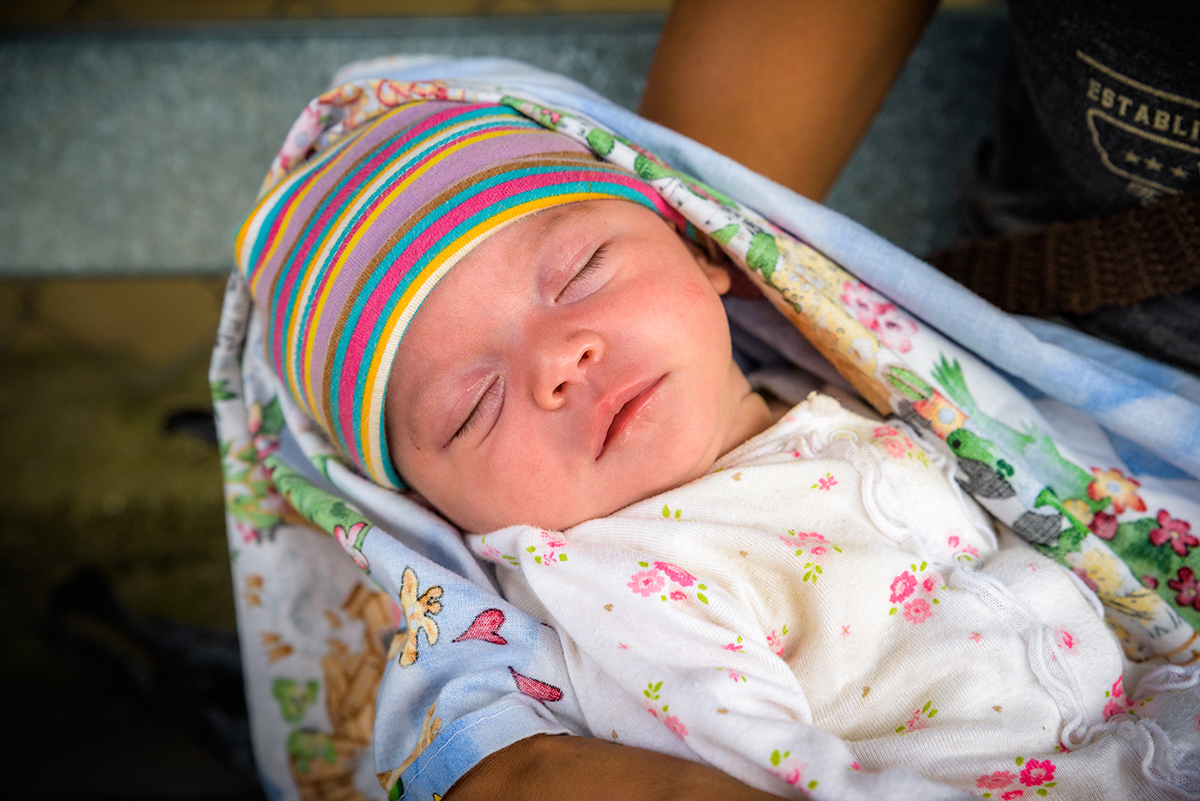 *Note: This post was originally published in November 2018. See an update and World Vision's current response to the situation at the border at the bottom of the post.
---
All migrants' journeys are difficult, but children are especially vulnerable to those difficulties. That's why — now that around 2,500 people from the migrant caravan that began in Honduras have arrived in the border city of Tijuana — World Vision Mexico is working to guarantee the protection and welfare of the estimated 500 children traveling with that group.
"Our priority is to provide safe conditions for children who have made an extensive journey from their countries and now reach the border between Mexico and the United States," says Jorge Navarro, Emergency and Humanitarian Attention Manager of World Vision Mexico. "We will provide food, tents for the establishment of shelters, and coordinators for the protection of children."
To start, World Vision Mexico has set up special breastfeeding spaces, to create safe and dignified places for mothers to care for their babies — the most vulnerable of these children on the move.
In order to protect the migrant children from low temperatures and shortages of basic services, World Vision Mexico has begun installing a child-friendly space with a capacity of 1,000 children. There, trained World Vision staff will provide safe spaces for children to play and return to normal routines by offering games, activities, and informal education to address the impacts of stress, fatigue, and fear. Similarly, World Vision will provide a month of nutritional kits for 1,500 people to offer access to nutrients for children and their families, many of whom have deteriorated health conditions from their extensive journey, in many cases made on foot or by bus.
World Vision is also collaborating with local churches and other organizations to provide quality services to these children. Furthermore, World Vision Mexico is supporting the evaluation and improvement of conditions at open-door shelters established in Tapachula and Mexico City.
Sadly, the countries of the Northern Triangle—El Salvador, Guatemala, and Honduras—continue to be plagued by endemic levels of crime and violence that have made many communities extremely dangerous, especially for children. Because World Vision works in hundreds of communities in Central and Latin America, we understand the violence and sense of hopelessness that is driving families to leave their homes. (Read our full statement on this recent migration.) As Christians, we are called to love and serve the most vulnerable among us, to welcome the stranger, and to show hospitality to those in need (Matthew 25:35).
Our hope is that by addressing the root causes of poverty and violence across Latin America, we can prevent unsafe migration from happening in the future and protect children from the violence and trauma they may encounter at home or along the way. But in the meantime, we're reaffirming our commitment to children by responding to this humanitarian emergency where help is needed.
---
*Update from July 2019:
New reports in June 2019 about unacceptable conditions at overwhelmed U.S. detainment centers have brought a new sense of urgency to the plight of migrant children at the U.S.-Mexico border. Last week, World Vision Advocacy mobilized to urge Congress to pass a bipartisan funding package to care for children being detained at the border.
On the afternoon of June 27, the House of Representatives passed a Senate-drafted bill approving $4.6 billion to care for migrant refugees. The president is expected to sign the bill into law.
World Vision's ongoing response includes:
Providing supplies via our partners to migrants on the Mexico and U.S. side of the border.
Partnering with Urban Strategies as they work with churches on the U.S. side of the border to set up shelters for migrant children and adults once they make it into the U.S.
Addressing the root causes of migration in Central America as this is the most sustainable and proactive solution to providing security and opportunity for vulnerable children in their home countries.
Asking the Administration and Congress to make the safety and well-being of children paramount by supporting HR2615, the United States-Northern Triangle Enhanced Engagement Act, which would protect critical programs in Central America that fight the root causes of migration: poverty, violence, and lack of opportunity.
"World Vision believes that all children are made in the image of God and are deserving of dignity, respect and compassion. Children seeking refuge from violence and poverty, now separated from their families in U.S. government facilities, are among the most vulnerable. I urge Congress and the Administration to act immediately to ensure the well-being of these vulnerable children. It is our moral and legal obligation to protect and care for them, and our policy and practice must reflect that reality."
— Edgar Sandoval, President of World Vision U.S. in an Evangelical Immigration Table statement
---
Top photo: A baby at a government World Vision-supported clinic in Jamastran, Honduras. The clinic is supported by WV though medicines, water, and sanitation. ©2018 World Vision/photo by Jon Warren.