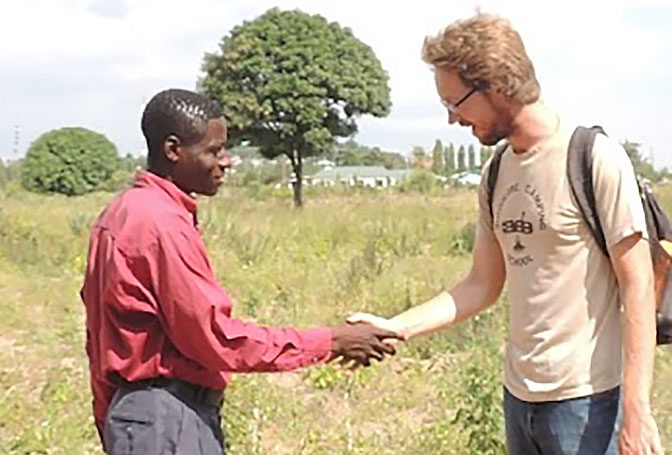 "Speak up for those who cannot speak for themselves, for the rights of all who are destitute." Proverbs 31:8 (NIV).
Davis Rhodes first realized the need for high-level advocacy when he spent two years in Tanzania working alongside a rural community doing economic development work.  
He watched families fight to survive on unpredictable agriculture. He watched teenagers living on the street try to make a living without access to job training. He watched children die from preventable causes.  
But even in these tough conditions, Davis saw change happening for the people of Tanzania. Their resilience, combined with funding from U.S. foreign assistance, began to make a dent in the root causes of poverty. But change wasn't happening overnight.  
"I just kinda realized, man, change needs to happen a lot faster. We really need all the help we can get."
When he came back to the United States, he wanted to advocate for policies and funding that he knew could make a difference in Africa and around the world. He signed up for advocacy updates from organizations he respected, and he began emailing his representatives.  
But he wanted to do more.  
When he heard about World Vision's Volunteer Advocate Community, a group of passionate advocates who develop faith-rooted, meaningful relationships with their members of Congress, he decided he wanted to be a part of it. 
Davis becomes an advocate
In February, Davis scheduled his first in-person meeting with a staff member for his local Congressman. When the day of the meeting came, he shared stories from his experience living and working in Tanzania that illustrated the effectiveness – and the continued need – of humanitarian relief and development programming supported by the U.S. 
Davis had a simple but bold request: that his Congressman support overall funding for U.S. foreign assistance at $60 billion, and that his Congressman would submit a formal funding request for the Global Fund to Fight AIDS, Tuberculosis, and Malaria. 
Davis asked the staff member if they could pray together at the end of their meeting, and they did. He says the representative said she was excited about what she'd learned, especially regarding the progress made in the fight against HIV/AIDS.  
"The representative was such a normal, everyday person and it didn't feel like an overly formal conversation. It was just going and talking to somebody about something I care about who was willing to listen to me."
As a result of the meeting, the staff member introduced Davis to a colleague in D.C. who could take the request further and, with the support of World Vision, Davis officially submitted a funding request for the Global Fund! 
Through the Volunteer Advocate Community, advocates put their faith in action and build real, purposeful relationships with their members of Congress to encourage them to make compassionate decisions on behalf of people experiencing poverty. Volunteer Advocates receive faith-rooted training, regular updates about global poverty issues, and support from World Vision staff and fellow advocates. We pray together, learn together, and raise our voices to affect change together. 
"I feel like this was 20 times more effective than anything I've ever done in the past. I feel like she really cared and this will be important to them… Feels really good to be more effective." 
Thank you, Davis, for being a bold advocate for those in poverty!
Make a difference! Learn more about becoming a Volunteer Advocate:
Top photo courtesy Davis Rhodes.