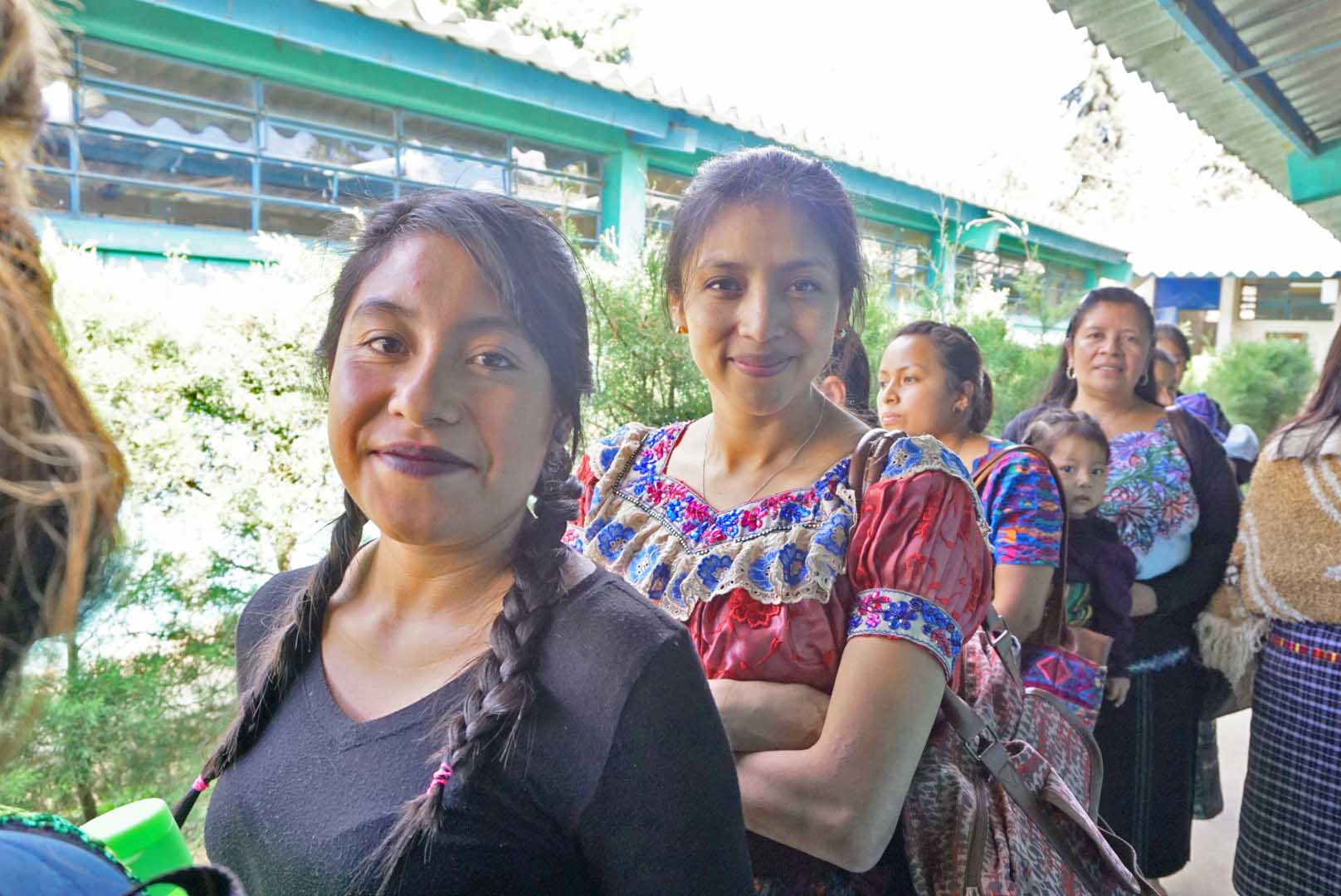 Emily Smith (not pictured above), a World Vision Child Ambassador, visited Guatemala on a trip with other Child Ambassadors as well as World Vision staff. She experienced first-hand the impact of the partnership between USAID and World Vision.
---
I stood up for what I believed in. It didn't go as planned.
Over the past few years, like many of you, I've been watching increasingly negative rhetoric surround families fleeing from Central America. And like many of you, my heart sank more every time anger or disdain was hurled at people in deep need. During this time, I joined the World Vision Child Ambassador (CA) team, a group that seeks sponsors for children in World Vision's program areas.
As the negativity escalated, our team lead asked several of us to seek sponsors particularly for kids in Guatemala, Honduras, and El Salvador. I eagerly joined the effort, believing that God was calling us to amplify the humanity, courage, and real needs of people in the Northern Triangle. Excited by this opportunity, I prayed for more ways to serve.
Prayers answered!
Last October, I attended a Child Ambassador conference where those prayers were answered. At that conference, the World Vision Volunteer Advocate team presented their work and extended an invitation for us to join. The very next night, our team lead announced that several CAs would be assigned to groups traveling internationally; on these trips, the CAs would learn from families and World Vision representatives about the regions' victories, needs, and plans and then return to the U.S. to fund raise for the regions' programs.
Our lead began to read off the names of the people who would be traveling, and I stared in disbelief as my name was called. As she named the destination, a chill ran across me. We were going to Guatemala.
With incredibly specific detail, God had answered my prayers. I had asked for a way to serve Central America more deeply, and here God provided a firsthand learning opportunity and an avenue to share that knowledge with my community and government. I imagined gaining an audience with my representatives, amplifying the stories of the people I would meet, and helping motivate solutions for asylum-seekers and residents of Central America alike.
And it really looked like that might happen.
New challenges for Central America
I returned from Guatemala in February, and in March, the president made his announcement that he planned to cut USAID in the Northern Triangle. This was the time to speak. I had witnessed Guatemala's people building their country's future, and I had seen USAID helping fund these initiatives — initiatives that were scaffolding real people's lives.
People like Fernanda, who received a USAID scholarship, graduated with a nursing degree, and now provides life-saving assistance for her community.
People like Josuel, who works in a garage during the week and then, through a USAID-funded program, studies each weekend to become a civil engineer.
People like Omar, who took entrepreneurship training through USAID and plans to use his business influence to support equal opportunities for women.
The U.S. administration was marketing the aid cut as a way to encourage Central American people to "stay at home." But I knew that its effects would strike a blow against the very people working to make their home a better place.
Amplifying Guatemalan voices through advocacy
Fueled by the determination of the people I had met, I began calling to set up an appointment with my representative, Congressman Higgins. Several weeks later, I found myself in front of his office door, ready to share.
The meeting seemed successful. Though the congressman himself couldn't attend, a member of his staff met with me, discussed concerns and stories, and agreed to share the information with Rep. Higgins. The congressman, he said, hadn't made an official stance on USAID for Central America, and he was thankful for firsthand information that could help inform his decision.
I left the meeting empowered and energized. This is real democracy, I thought; I could share my ideas, and someone would hear and do something. Rep. Higgins' office was open and supportive. It was seeking to represent his constituents' interests.
But it wasn't enough to change the decision.
I hope that Rep. Higgins took the information I shared to heart, but ultimately, the decision was beyond his control or mine. On June 17, the administration announced that it was indeed cutting aid to Central America. Much of the promised funding from 2017 would be preserved thanks to push back from Congress and other advocates, but the rest of the money was indefinitely suspended.
Thoughts of Fernanda, Josuel, and Omar whirled through my mind. What would happen to them? What would happen to other people who hadn't yet completed their educational training? Would these political decisions undo the hard work of Guatemalan families?
I don't know the answers to those questions. I'm still angry and worried. But I've determined that I will not stop advocating.
Grieving, but not giving up on Central America
The day that I learned of the aid cut, I was at home, catching up on the news and listening to music. As I tried to process the consequences of this policy, the bridge of "You're Not the Only One" by Lukas Graham started playing:
"You're not the only one who's had enough /
Give me your hand so we can stand up /
You're not the only one done waiting for changes to come."
Sorrow washed over me as the song played. It's true — this time compassion's voice seemed to go unheard. And people whom I love, people in deep need, lost a resource that could have helped them.
But I'm not the only one done waiting for change. Central American families aren't giving up. World Vision isn't giving up. And across party lines, many U.S. representatives aren't giving up.
Two proposed legislation pieces stand for rebuilding USAID in the Northern Triangle. H.R. 2615 proposes securing funding for 2020, and the House of Representatives State and Foreign Operations appropriations bill offers hope for restoring much aid lost in the recent cut.
With all these voices staying strong, I can't give up either. It's true that standing up for my beliefs didn't yield the expected results this time. But I truly believe that God put me and you and everyone else in this moment to love and stand for each other. Though we lost this funding, we can speak for compassionate decisions in the future.
Over the coming weeks, please join me in speaking to your government representatives about Central American aid, especially about H.R. 2615. You can find contact information for your representatives at https://www.usa.gov/elected-officials; even a simple email or voice message can let them know that people in need in Guatemala, Honduras, and El Salvador matter to constituents here.
The future of our world matters, and when we all speak together, we cannot speak unheard.
*Update: H.R. 2615 passed unanimously in the House of Representatives on July 15. Now, ask Congress to support foreign assistance!
ACT NOW:
Top photo courtesy Linnae Asiel.