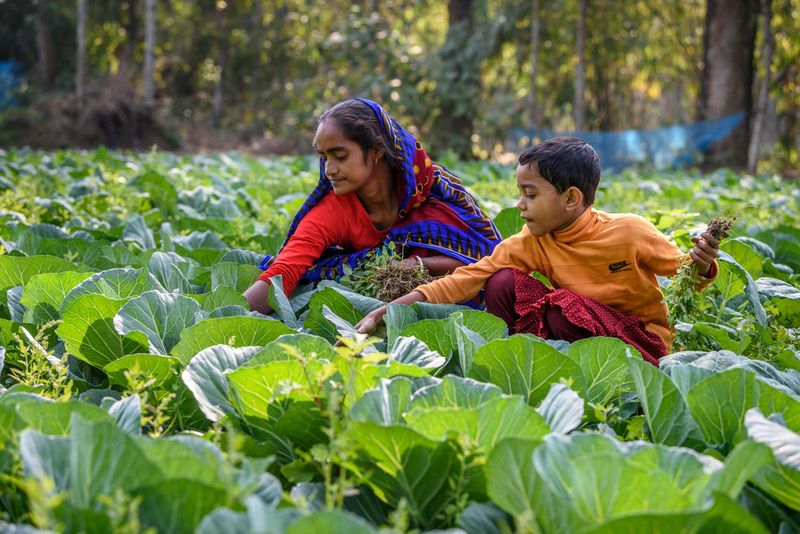 "When I water in the garden, the vegetables grow very fast. That makes me very happy." — 9-year-old Pryanka Sarder
The southwest coastal region of Bangladesh is subject to a lot of natural and man-made challenges. The area is frequently hit with cyclones, tidal surges, floods, and droughts. Increased soil salinity, waterlogging, and the conversion of too much arable land into shrimp farms has made life difficult for farmers. As a result, many families struggle to put nutritious food on the table and too many children are malnourished.
Nobo Jatra, a food security program implemented by World Vision and funded by U.S. foreign assistance, is hoping to change that. One of the many ways they're intervening is by training and empowering farmers with climate-smart farming techniques, sustainable production methods, and increased access to markets — and it's changing lives for farmers in the region.
Climate-smart farming takes barren land to award-winning farm
Just ask Sobita Sarder, a mother and farmer in Champaful village in southwest Bangladesh. Before Nobo Jatra, her land was barren and her family struggled to live off her husband's income as a day laborer.
"We would only eat rice and vegetables," says Sobita. "Meat was rare in my house."
But Nobo Jatra identified Sobita as a great candidate to be one of their lead farmers, someone who can implement training and show others in their community how to replicate success. Nobo Jatra staff trained Sobita in climate-smart farming techniques, and now her land has completely transformed.
"All the improved technologies, these are totally new for us," she says. Sobita has enhanced her farm with techniques like mulching, composting, and tower gardening. She uses trellises and roof gardens, and even makes her own organic fertilizer. She also cultivates fish in a nearby pond. Sobita planted banana trees to take the salinity out of that pond so the water is better.
Now, just a year later, she's won a government award for her lush, chemical-free farm. The farm yields more than enough cabbage, carrots, eggplants, and other produce for her family, with plenty to spare to sell at the market for additional income.
"Before I started, this area was totally barren," Sobita says. "Now we are taking in more nutritious food."
Improved farming, improved lives
Because of their improved diet, Sobita's 9-year-old daughter Pryanka is sick less often. And with the increased income, the Sarders can afford to send Pryanka to a better school. Pryanka loves helping her mother in the garden — and only wants to eat vegetables if they were grown at home. "I like our vegetables," she says. Her favorite vegetable: Eggplant!
"I love to help my mother watering the garden and usually when I come from school I help my mom to water," says Pryanka. "When I water in the garden, the vegetables grow very fast. That makes me very happy."
As one of Nobo Jatra's lead farmers, Sobita teaches 150 other farmers — all female — about the techniques she's learned that lead to a productive farm. Between her leadership role in her community and the government award for her farm, Sobita has an increased sense of purpose.
"I am feeling so proud," she says. "Everybody is respecting me as a leader."
Her teenage son, Prodeep, agrees: "I am proud for my mother. Everyone is respecting my mother. People are learning to cultivate vegetables from her."
Translated, "Nobo Jatra" means new beginning. Now that they're able to grow more and healthier food and have become leaders in their community, the Sarder family has embarked on a new beginning of their own.
"Overall, we are leading a good life," says Sobita. "A better life than before."
Learn how World Vision and Nobo Jatra are helping moms raise their income through beautiful embroidery.
ACT NOW: Support programs that help empower women and families!
Foreign assistance — for about 1 percent of the total U.S. budget — supports programs like Nobo Jatra that empower women, promote health and nutrition, and help communities lift themselves out of poverty. Your voice helps these programs continue for families in southwest Bangladesh and all over the world!
Top photo: Sobita Sarder, 34, and her daughter, Pryanka, 9, weed their cabbage patch on their climate-smart, organic farm. (©2019 World Vision/photo by Jon Warren)