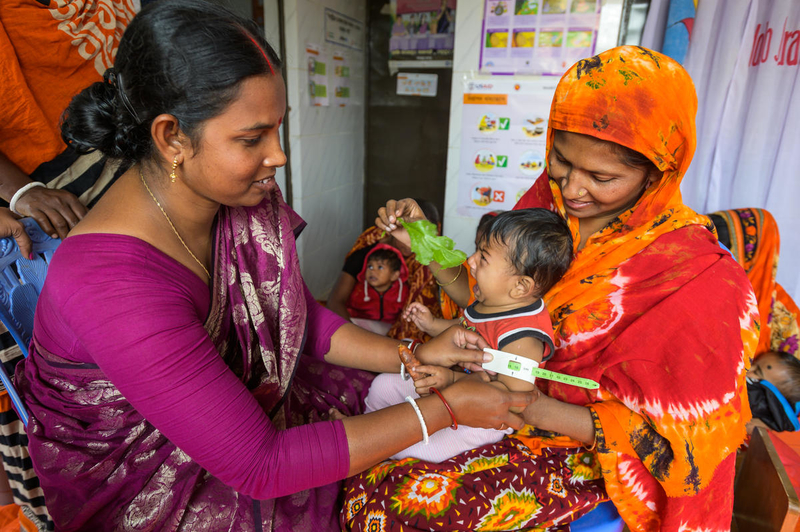 At Chunkuri Community Clinic, seven mothers, all holding children in their arms, chat quietly with one another as Aparna Mondal, one of the clinic's community nutrition facilitators, prepares for a growth monitoring session.
During these sessions, trained facilitators go over nutritious food options for both mother and child. Additionally, family welfare coordinators arrive to discuss options for the healthy timing and spacing of pregnancies, while community health care providers dispense medicines. As if that weren't enough, this newly restored clinic doubles as an immunization center and a cyclone shelter.
Updates to the clinic were made possible by citizen advocates in the community and Nobo Jatra, a five-year development and food security program implemented by World Vision Bangladesh and funded by U.S. foreign assistance.
Why Aparna loves working at the clinic
Aparna's been working here for three years and has seen some incredible changes since Nobo Jatra began.
"I love working with pregnant mothers," she says. "If we take very good care of a pregnant woman, they are able to give birth to a healthy baby. That's why I love this time."
Aparna is a new mother herself, so she understands the challenges that these new moms face.
Challenges for mothers in Bangladesh
According to a UNFPA report, 5,200 maternal deaths occur annually in Bangladesh — accounting for 8 percent of total deaths among women of reproductive age — and the mortality rate for children under five is 46 per 1,000 live births. These are largely attributed to a lack of access to formal healthcare services and trained professionals, with over 71 percent of births occurring at home and 42 percent of women giving birth without a skilled birth attendant.
Women and children in southwest Bangladesh are particularly vulnerable, where issues in maternal and child health are exacerbated by poor water, sanitation, and hygiene conditions and challenges from climate change.
Compounded by frequent natural disasters and rising salinity, the consequences of climate change diminish productive capacity in agriculture, limit alternative livelihood opportunities, and restrict the affordability of nutritious diets, leading to a high incidence of diarrhea diseases, dehydration, and malnutrition. Health and nutrition indicators in this region are reflective of these challenges, with stunting figures for children under five around 26.8 percent and approximately one in five women aged 15-49 reportedly underweight.
Aparna's husband and family are supportive of her work: Her husband works at a local non-governmental organization, and her mother-in-law helps care for her daughter, Sriwasi, while Aparna is tending to other mothers in the area.
Aparna has 133 local moms within her working area — 70 pregnant women and 63 new mothers. She takes the time to visit each of them at home before the mothers attend the regular growth monitoring sessions or prenatal health sessions.
"I want my daughter to be a doctor," says Aparna. "I am ensuring her brain development by making sure she has nutritious food." Her daughter's name, Sriwasi, means "greatest weapon."
Aparna says that working at the clinic has made her a better mother to Sriwasi: "I want to be a role model for my daughter."
Learn how Nobo Jatra helped Sobita make barren land into an award-winning organic farm!
ACT NOW: Speak up for programs that help moms and kids stay healthy!
Foreign assistance — for about 1 percent of the total U.S. budget — supports programs like Nobo Jatra that empower women, promote health and nutrition, and help communities lift themselves out of poverty. Your voice helps these programs continue for families in southwest Bangladesh and all over the world!
Top photo: Health worker monitors the growth of a baby at the Chunkuri Community Clinic in Bangladesh. (©2019 World Vision/photo by Jon Warren)