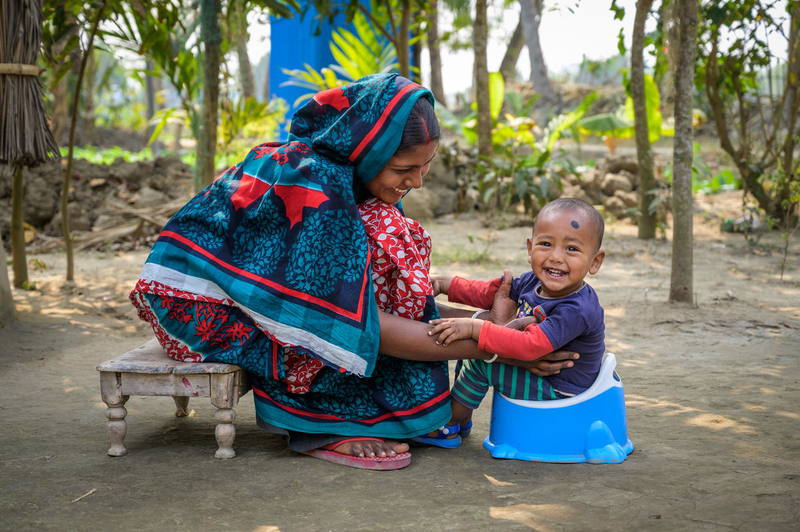 "The biggest gift I got is a healthier child."

— Shamoli Golder
Note: Images taken prior to the CDC's recommendation to wear masks in public.
Durjoy Golder and his family live in a house in Tildanga Village, within the Khulna District of southeast Bangladesh. His mother, Shamoli, cares for Durjoy, who's not yet 2, and his 5-year-old sister Sruti. His father, Sanjoy, works as a night guard at a fish hatchery. But his earnings weren't enough to get by: The Golders weren't able to afford nutritious food, their latrine was unhygienic, and their water was collected from a nearby pond — it wasn't safe to drink. They washed their bodies in the same pond, and as a result, their skin would occasionally peel or develop rashes.
"We were frequently caught with water-borne diseases, especially diarrhea," says Shamoli. "I could not go into the latrine, the smell was so bad."
Global barriers to water, sanitation, and hygiene
Sadly, the Golders' situation isn't uncommon. In the developing world, there is a persistent need for better water, sanitation, and hygiene (WASH). This holds true in Bangladesh, where children are at a higher risk of diarrheal diseases. Diarrhea is a leading killer of children, accounting for approximately 8 percent of all deaths among children under age 5 worldwide in 2016.
Cultural norms in the Golders' area make the situation even more difficult. About half of all households in the area don't use an improved drinking water source. Less than half treat their drinking water prior to consumption. This is an alarming reality given the high levels of salinity and water contamination caused by continued sea-level rise in this exposed coastal belt of Bangladesh.
But in the past year, the Golders have embarked on a new beginning. Nobo Jatra — which translates to "new beginning" in Bengali — is a five-year program funded by USAID, or U.S. foreign assistance. The program is implemented by World Vision in partnership with World Food Program and Winrock International with the goal of improving food security, nutrition, and resilience in southwest Bangladesh. A big part of that is ensuring access to and proper management of sanitation and safe water.
New beginnings for the Golders
Nobo Jatra provided the Golders with a hygienic latrine, a tank for harvesting rain water, and even a baby potty for Durjoy. The family also received Social and Behavior Change Communication training to learn how to maintain their new latrine and tank, as well as learn sustainable hygiene practices like handwashing.
"We are much healthier now than before," says Shamoli. "We haven't had as much diarrhea and dysentery."
Thanks to these improved water and sanitation facilities and hygiene practices, their home is much cleaner than before. One of Nobo Jatra's many WASH facilitators often stops in to check on the Golders' progress and well-being. To date, Nobo Jatra has helped 167,200 people gain better access to safe water and 107,000 people access improved sanitation services. And it's making an incredible difference for children and families in southwest Bangladesh.
"We are thankful," says Shamoli. "Nobo Jatra changed our life. The biggest gift I got is a healthier child."
Learn how World Vision and Nobo Jatra are helping farmers take their land from barren to award-winning.
ACT NOW: Support programs that help families access clean water!
Foreign assistance — for about 1 percent of the total U.S. budget — supports programs that empower women, promote health and nutrition, and help communities lift themselves out of poverty. Your voice helps these programs continue for families in southwest Bangladesh and all over the world!
Top photo: Shamoli and her son. (©2019 World Vision/photo by Jon Warren)