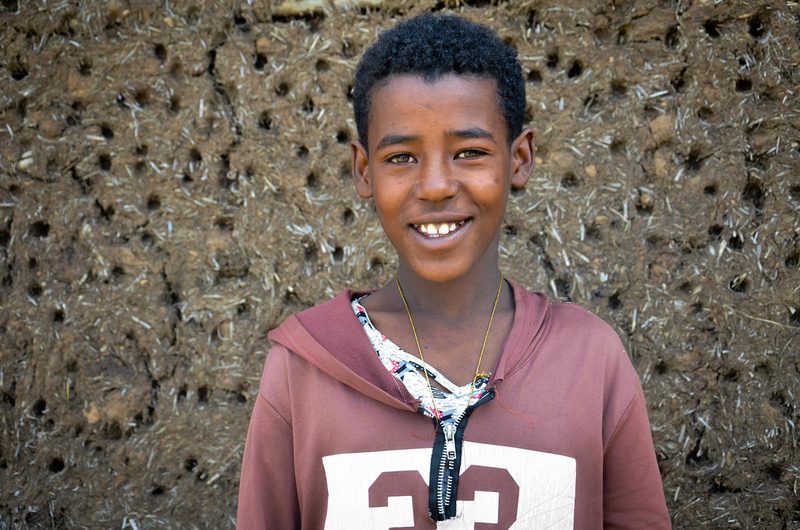 The Lord is close to the brokenhearted and saves those who are crushed in spirit.

— Psalm 34:18 (NIV)
Original story by Meron Belay, World Vision Ethiopia.
In Ethiopia, 41.5 percent of children ages 7 to 14 are involved in child labor. Just over 30 percent of that age group are able to manage going to school too, but only 54.3 percent of children in Ethiopia finish primary school. It's hard to finish school when you're forced to work.
Getachew, a 13-year-old boy in Ethiopia, wanted to go to school, but instead, his father hired him out to strangers. After his mother and father separated, Getachew and his younger brother were taken to a town where their father told them they would have a better life. But then the boys were sold to different homes and forced to work. Their father used his sons' earnings to buy alcohol.
Getachew's father didn't allow him to stay in one place more than two to three years, which meant that Getachew couldn't enroll in school. "I had a hope that I would continue my education, but I could not and I became a shepherd," Getachew says.
He worked as a shepherd for five years and then was brought back to town and hired into another home. There Getachew asked the homeowner to enroll him in school. The homeowner agreed, but after a year he told Getachew to quit school to plow the land. Getachew refused and was kicked out of the house and had to spend two days in a nearby church compound.
"I always feel low when I see children going to school. I know that I do not have any hope to change my life except through education," he says.
Working as a child laborer, Getachew had been physically and mentally abused by his employers. "Most of the house owners beat and insulted me for no reason, and sometimes they punish by not giving food for a day," says Getachew with tears in his eyes.
Hope through a mobile phone
It was during this time that Tesfaye, a World Vision community activist, heard Getachew's story. Tesfaye had been trained in child protection and had been given a mobile phone to report any child protection cases in his kebele (in Ethiopia, a kebele is the smallest administrative unit, similar to a ward). World Vision Ethiopia started using mobile phone technology as part of their child protection strategy in 2017 to empower local community and child protection actors to prevent and respond to child abuse, neglect, exploitation, and all forms of violence.
Tesfaye reported Getachew's case to the World Vision Ethiopia National Office and the Women and Children Affairs Bureau of the district. "As I reported Getachew's case… World Vision Ethiopia, police, and Women and Children Affairs of the district immediately responded. We kept the child in a temporary resting room built by World Vision until the case is investigated. And we were closely following up the case," explained Tesfaye.
Using his mobile phone, Tesfaye was able to report 15 cases within two months. He said some of the cases are solved, and some are in progress. "Before this mobile project, most child abuse cases were left unreported due to inaccessibility of the places and lack of awareness on what kind of cases to report and where to report… But now we immediately report whenever there is any kind of issue that is against the rights of children. The project created a platform where any community member can report from any place he or she lives. It also helps us to follow the cases closely."
Now Getachew lives in foster care with a man named Negash, a committee member of the local Community Care Coalition. He picked up his education at grade two.
"I am grateful for World Vision and others for helping me to start my life all over again. I am very happy that I continued my education. I now have time to study and play with my friends," Getachew says.
The future of child labor
In 2016, 152 million children ages 5 to 17 were engaged in child labor. Child labor harms a child's social and mental development and limits educational opportunities. Without an education, children grow up without the skills they need to secure better employment, making it more likely that they'll send their own children to work someday, continuing the cycle of child labor and poverty.
But there's hope to break the cycle.
Thanks in part to partnerships between World Vision, other humanitarian organizations, and the Bureau of International Labor Affairs (ILAB), global child labor rates have been reduced by 25 percent among boys and 40 percent among girls since the year 2000.
But the decline in child labor rates slowed between 2012 and 2016, and without increased efforts, 121 million children will still be involved in child labor in 2025, with 52 million of those in hazardous work.
World Vision works together with ILAB and foreign governments to prevent and address child labor, and your voice can help keep our work going strong. Contact your member of Congress and ask them to make the U.S.'s efforts to end child labor a priority. Ending child labor means ensuring fair competition for the global labor market, giving children a chance to break the cycle of poverty through education, and showing God's love to children around the world.
ACT NOW:
Top photo: Portrait of Getachew, age 15, who was rescued from child labor through World Vision's Mobile Phone Technology for Child Protection Violations. (©2018 World Vision/photo by Meron Belay)