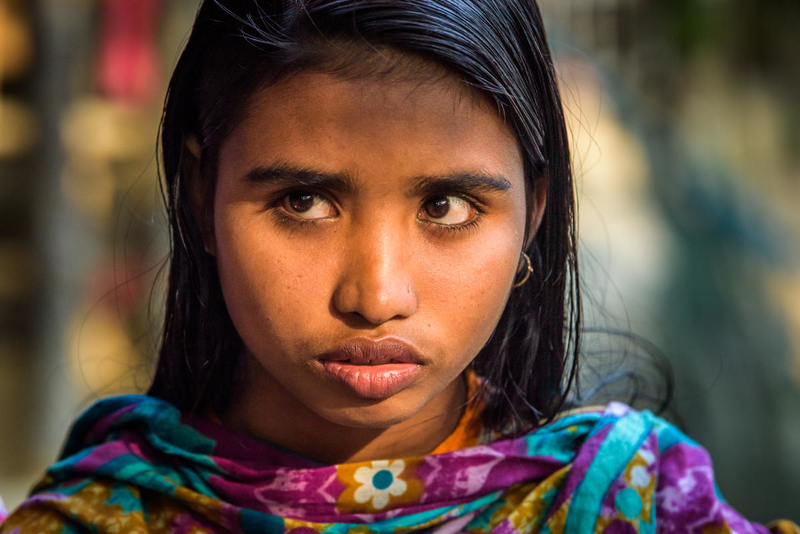 Above photo: Modhumala, 15, listens to her mother, Shabitri, talk about challenges in the past and how she wants to make sure Modhumala and her sister get good educations and avoid early marriage. Shabitri was married at 11. Madhumala wants to become a lawyer. (©2019 World Vision/photo by Jon Warren)
Around the world, 12 million girls are married before they turn 18 every year. In developing countries, one in nine girls is married before age 15. Even where child marriage is against the law, it often persists because of cultural norms about family honor, religious influences, and poverty.
But the harms of child marriage far outweigh any perceived good. Child marriage — most often a girl being married to a much older man — can keep a girl from completing her education, increases her chance of experiencing violence, and contributes to the cycle of poverty that hurts entire communities.
Below, hear from three powerful young women who have chosen to speak out against child marriage in their own countries.
Fatou speaks out against child marriage
Fatou is a member of World Vision's Young Leader Network and is a committed advocate for gender equality and ending child marriage and violence against children. She dreams of becoming a judge so she can help protect children.
This is what Fatou in Senegal had to say at 17:
"Girls who are married are exposed to violence, abuse, and risky pregnancy. In Senegal, the mortality of young mothers under 20 and their babies is very high. Married girls often drop out of school as soon as they become pregnant.
"I have seen that many times and want to share with you two stories from my own community. A father forced a girl who was only 13 years old into marriage. Just three months later, the girl was pregnant and then a miscarriage and died.
"A friend of mine who was 16 years old was given in marriage by her grandfather. He thought he was protecting her from pregnancy out of wedlock. She refused to get married, and as a result, her whole family abandoned her. As she was very sad due to her family's reaction, she finally agreed to get married to be reunited with her family. Now she faces horrible forms of abuse from her husband.
"In order to put an end child marriage and other abuses, we need to work more with the communities and to educate girls, parents, adults, and local authorities about violence and abuse against girls. I am doing it myself as a peer-to-peer educator, which means that I am conducting sessions to empower my classmates and peers on ending child marriage and violence against children."
Take Action: Send an email to support the Ending Violence Against Children Resolution!
Eka speaks out so she can stay in school
Bangladesh, where Eka lives, has one of the highest rates of child marriage in the world. Over half of women in Bangladesh now in their mid-20s were married as children.
Eka participated in a life skills education class, put on by World Vision, at her school in southwest Bangladesh. The classes share leadership and communication skills to empower both girls and boys, and the students learn about the dangers of child marriage and their own rights. The class would prove especially relevant for Eka: At 14, she learned that her parents were arranging her marriage to a man at least 20 years older.
"I raised my voice against it," says Eka. "I said to my parents, 'Right now, I don't want to get married. I have a long life and a dream in front of me.'" Her parents resisted initially, but the communication skills and child marriage data that Eka had learned helped her succeed.
"Again and again, I tried to make them understand," she says. "I want to be something in my life. I want to help my parents, too. And I was able to convince them!"
Eka again raised her voice on her 14-year-old cousin's behalf when she learned her cousin's parents were arranging a marriage for her, again to a much older marriage. Eka was able to use her knowledge to convince her cousin's marriage to cancel the marriage. Eka and her cousin remain in school.
"I felt so good that I could stop the marriages," Eka says. She's committed to staying in school and studying well. Now she hopes to be a lawyer one day, so she can continue to fight against child marriage.
Take Action: Send an email to support the Keeping Girls in School Act, which empowers girls to complete their education!
Samia speaks against violence
Samia is also from Bangladesh and, like Fatou, is a member of World Vision's Young Leaders Network. She engages her peers and speaks out about children's rights and the harms of child marriage.
Here's what Samia had to say at 15:
"Cultural beliefs, illiteracy, and lack of knowledge cannot be an excuse anymore to justify violence. If we give people knowledge, they will understand what is right and what is wrong, and hopefully they will end all forms of violence. Luckily, my parents are conscious that violence against girls and child marriage is a problem because they have learned that these things have a negative impact on children's lives. I shared my learning with them, and they understood.
"But many parents do not understand this problem. They think girls are born to do household work and if they get married early, they can be happy in life. Many parents of my friends believe in that way.
"Here I want to say that everyone is equal; girls and boys are the same. I firmly believe that we, the girls, can equally contribute to society and, together with boys, we can end violence against children. But we need encouragement from the people around us. Sadly, all over the world, girls are prevented and discouraged from talking and making their voices heard. In our community, people think that girls are a burden. This is not right!
"We, girls, can do many things to change the world and change the attitudes of society, and this is what we are doing today in our Child Forum. This is the reason why I am here today writing this blog. I am here to show my determination to work together in ending child marriage and all forms of violence against girls. My dream is to see our world free from child marriage, free from child labor, and free from all forms of violence against children."
Take Action: Send an email to support the Ending Violence Against Children Resolution, which helps stops child marriage and other practices that hurt children.
---
World Vision is standing with girls and women like Fatou, Eka, and Samia. We believe that all children deserve a childhood, and global experts agree that ensuring girls have access to a quality education is one of the best ways to break the cycle of poverty. When girls are allowed to speak, to learn, and to make their own choices, the whole world rises with them.
ACT NOW:
Learn more about the Ending Violence Against Children Resolution.
Learn more about the Keeping Girls in School Act.
You can see our full blog on child marriage here.