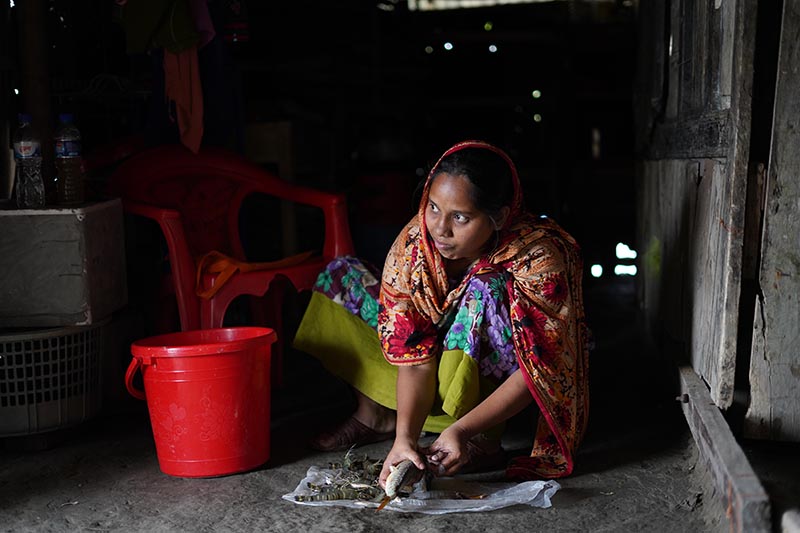 Naima's dream to be an educated woman helped her overcome incredible adversity. Story and photos by Suborno Chisim, Regional Communications Coordinator for World Vision, Southern Bangladesh Region.
Naima, now a 24-year-old mother, was a victim of child marriage. But nothing could stop her dream of being educated and self-reliant. Naima is from a small village in Bagerhat district in Bangladesh and was born and brought up in a poor family.
As a landless day laborer, her father could hardly manage the expenses of the four-person family including Naima's mother, brother, and sister.
Naima is from a community where parents didn't usually want to send their daughters to school. But Naima had a strong desire to be an educated woman. She was a good student and passed the primary level and was admitted to high school.
However, day by day it became very difficult for her parents to continue supporting her education. As a young girl, Naima sometimes had to work to earn money to support her parents, but she did not give up her studies.
Facing child marriage
Naima's biggest fear was realized when she was 16 years old and preparing for exams. Her parents had arranged a marriage for her.
"The most frightening news for me was that the groom was 10 years older than me and passed only grade 3," she says. "I became confused and did not know how to react. In that age I knew the bad effects of marriage but did not know from where to get help." 
Naima talked to the chairman of their union council, but he suggested she obey the decision of her parents because he thought it was the right time for her to get married. Her future in-laws assured her that she would be allowed to continue her study even after marriage.  
"None of my friends and relatives came forward to stand beside me," Naima says. "I thought to take my life by myself but my dreams to be an educated woman prevented me to do so."
Naima was married and started a new life. She soon realized that all the promises of her in-laws were lies. None of them approved of women's education and the conflict became stronger when Naima was preparing for the high school final exam.
Her husband burned all her textbooks and asked her not to sit for the exams. Naima was determined to do so, so she left her in-laws' house and went to her parents' house. She borrowed books from her friends and took the exams.
She passed the Secondary School Certificate (SSC) examination, scoring CGPA 3.5 from Business Studies. Naima says, "I believed it was not the end, but the beginning and I have to go long to fulfill my dreams."
Naima started to tutor children and weave fishing nets to earn money for her admission to college. And she kept it all a secret from her husband!
But one day her husband found her school supplies and burned all her books and hizab (head, face, or body covering worn by women as per Islamic standards of modesty). He even assaulted her physically so she would stop attending college classes; she was no longer allowed to go out of the house.
A new opportunity
In 2013, she gave birth to her first child and interestingly, this opened a door of possibility for her: She could go out of her house to visit doctors at the clinic. And she used the opportunity to reenroll at her college and resume her studies.
During this time Naima and her husband moved out of her in-laws' house. They were given a piece of land to build their own house and a pond to have their own fish farm. Naima's husband would often disappear for few days with the excuse of a fishing trip but would come back empty handed. Naima had to work hard to earn money to feed her child and pay her college fees; she continued to weave fishing nets, tutor more kids, and farm fish in their small pond. She also started to raise poultry such as chickens, ducks, and pigeons.
She says, "It was difficult to survive only on my income, but I loved it as it gave me freedom of life!"
Naima passed the Higher Secondary School Certificate (HSC) in 2016, unnoticed by her husband. Using her freedom, she also completed some NGO-provided courses on computer operation and cosmetology. She was also admitted to the same college for a graduate course in Business Studies.
In 2018 Naima was recruited as a Community Promoter by World Vision Rampal Area Program.
"I knew World Vision before," she says. "I attended several awareness sessions facilitated by World Vision. I had desire to work for such organization and finally the opportunity came for me. It opened a new world for me." (Learn more about World Vision's work in Bangladesh.)
Naima does not limit her job to what she is assigned; she shares her story, the struggle, and how she moved forward with other women in the community. She tells the women about the bad effects of child marriage and how women can earn extra money to support their family.
Her neighbor Nazma, a housewife, says, "Naima is an amazing woman. We saw how she struggled to continue her study even after her marriage… Now everybody in our area respects her because she is an educated woman. We learn from her life."
Incredibly, Naima says that her husband, Shaheed, has changed his attitude since she began work for World Vision. Shaheed smiles when asked how he feels about his wife working for World Vision. He says, "I am happy and proud of her." He now realizes the value of education. He does not stop her from going to college or work; sometimes, even takes care of the children while she is not at home. Naima is undefeated, a woman who overcame an adverse situation to fulfill her dream!
ACT NOW:
The Keeping Girls in School Act recognizes the importance of education for girls and highlights the need to address the barriers that girls face in accessing quality education. Ask Congress to support girls who want to go to school!
Top photo: Naima works to support herself and her family. © 2020 World Vision/photo by Suborno Chisim