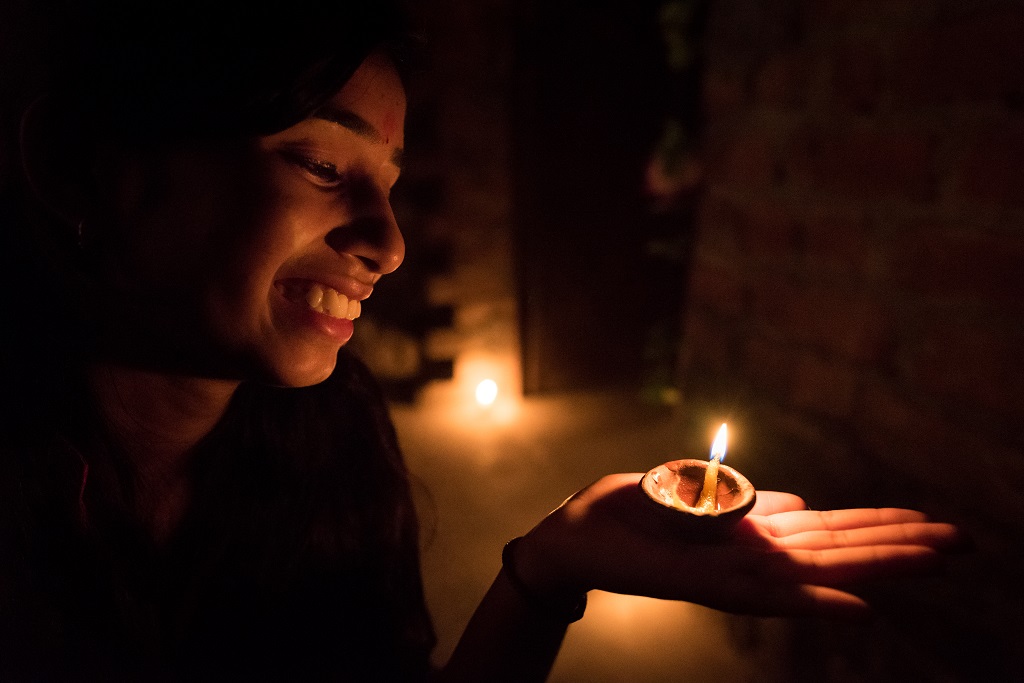 This Advent season we are reflecting on the different candles of the Advent wreath and how their themes relate to our role as advocates for Christ. Advocate Laura Crosby recalls her experience seeing the AIDS crisis in Uganda as she reflects on the Christ Candle – a light in the darkness – for part five of our five-part series.
By Laura Crosby
"The people walking in darkness
have seen a great light;
on those living in the land of deep darkness
a light has dawned." Isaiah 9:2, NIV
It is 1994, the height of the AIDS crisis in Uganda.
We approach the red mud hut with worn, thatched roof. Eaten by termites, it's crumbling here and there. Tiny rivulets of water will sneak in during the rainy season, but today the bright sun radiates heat and sweat trickles down our backs as we duck to enter. It's my first time being welcomed to a home in Rakai, Uganda.
The darkness inside is overpowering. We blink, waiting for our eyes to adjust. This tiny shack can hardly contain us — my husband and me, a World Vision staff person, a videographer. It's hard to make out the shape of a teenage girl kneeling on the dirt floor. Her dark skin blends into the darkness of the hut. She is shy, perhaps scared of the muzungus, her head down.
Appropriately, her name is "Night", a 16-year-old child head of household, caring for sisters left behind after her parents died of AIDS. Her older brother left after their mother died but returned home recently. With AIDS himself.
Night silently leads us out to the graves of her parents and other family members buried nearby — mounds of earth with crude wooden crosses.
My husband and I are overwhelmed by the enormity of the pain and suffering. The darkness of death envelops the country like a black cloud.
I am experiencing ALL THE FEELS.
I desperately want to turn away. To run home and pretend I don't know about this.
It's too much darkness to feel responsible for.
The darkness wears on me like a heavy shroud I want to be rid of.
Each Christmas we read, "In Him was life, and that life was the light of all mankind. The light shines in the darkness, and the darkness has not overcome it." John 1:4-5, NIV
Where is the light on this continent of Africa? In this country of Uganda? In this district of Rakai? In this dark home of Night?
I think of my World Vision pen with the tiny light on the end. That teeny light is a picture of how I feel. How much darkness can that pinpoint of light pierce? What difference can it make? How can I be a light-bearer in the image of God in this place?
Fast forward to 2008. Our church has sponsored over 1,500 orphans in Rakai. 1,500 individual tiny lights, with names and stories, punching holes in the darkness.
We have visited many times over the years, developed relationships with staff and children alike. The area has been transformed. Schools resourced, wells dug, loans made. The incidence of AIDS has gone from an estimated 96,000 in 1994 to 52,000 today.
My husband and I return to the rusty dirt roads of Rakai with members of our church to celebrate and launch this area into independence, free of World Vision assistance.
There is joy but also uncertainty. A young boy of about 12 approaches us, standing proud and tall, in his clean, sky blue shirt. He extends his hand and says, "Hello. My name is Michael and I am here to beseech you to not leave. I want to be a doctor — the best doctor in Uganda. And I will not be able to achieve that at our public, rural school."
As we get to know Michael, it is clear that he is remarkable. Articulate. Committed. A leader. With another couple, we decide to continue walking alongside him, providing a local mentor and the schooling he needs. Now, Michael is in his 3rd year of medical school. He wants to know when World Vision will complete a new medical clinic in Rakai so he can return to help his people. Another point of light in the darkness.
Turns out the light HAS shown in the darkness and the darkness will never overcome it.
Name an area of darkness you're aware of.
Pray for those in this area of darkness.
Talk to God about how He might use you to bring light to this area of the world.
Laura Crosby is a speaker and writer  – a follower of Jesus who wants to take Him seriously, but herself not so much. Laura and her husband John are partners in ministry at Christ Presbyterian Church in Edina and travel the world in their roles with the church and World Vision. Share life with Laura at lauracrosby.me.
Photo: Former sponsored child Shivani Swaroop, 19, decorates her home with homemade candles – small clay pots filled with oil and cotton wicks – to celebrate Diwali. The Hindu festival commemorates the triumph of light over darkness. © 2016 World Vision/ photo by Eugene Lee