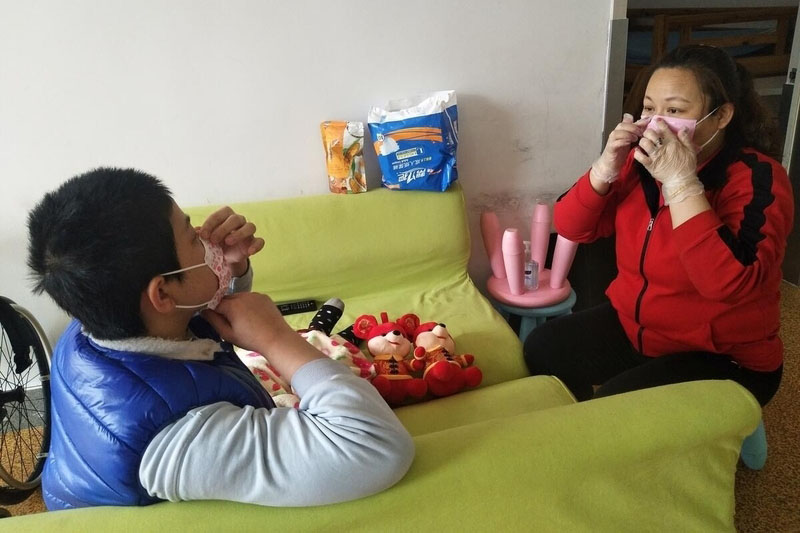 Story by Xu Wen, World Vision China
"The WHO's pandemic declaration underscores what we at World Vision have been saying since the beginning of the outbreak: we mustn't forget the world's most vulnerable." — Edgar Sandoval Sr., president of World Vision U.S.
As the number of cases of COVID-19 caused by coronavirus rises in the U.S., it's easy to give in to panic and worry, turning inward instead of outward. But we don't have to choose. We can take care to protect ourselves and be compassionate to the thousands of people whose lives have been affected by the virus, particularly in China, where World Vision is responding to COVID-19.
In a children's welfare house and rehabilitation center in Tianjin, routines and daily life for the residents have changed. Teacher Ma, a nurse in the welfare house, found that her job changed a lot during the outbreak: In addition to taking care of the children with disabilities, she now sterilizes children's rooms and checks their temperature regularly.
Xiao, a 15-year-old boy who suffers from high paraplegia due to spina bifida, says he and the other children wash their hands more often and don't get to move around and explore the house as much these days.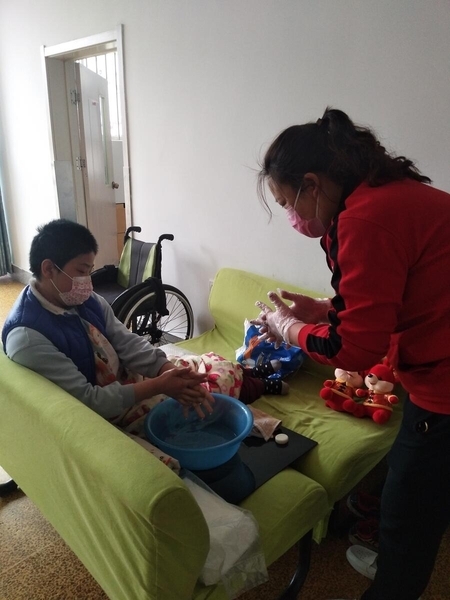 "Teacher Ma taught me to wash my hands because I was physically unable to move," says Xiao. "When I wanted to eat, she asked me to wash my hands first and sometimes she even put a basin of water on my bed. She taught me how to wash my hands and use disinfectant, so I could better protect myself during the coronavirus outbreak."
In collaboration with this children's welfare house and rehabilitation center, World Vision China provided rehabilitation education support for children with disabilities in the institution; carried out professional rehabilitation training for the teachers; and promoted the participation of primary caregivers of children in the integration experience of the community. During the period of joint response to the outbreak, World Vision China provided the welfare house and rehabilitation center with supplies such as disinfectant and hand sanitizer. World Vision is also purchasing urgently needed materials like masks and antiseptic temperature guns.
"Teacher Ma takes our body temperature every hour to see if we have any symptoms such as fever and cough," says Xiao.
Recently, Xiao didn't feel well and had to rest in bed. "Teacher Ma was worried that I was afraid, so she explained to me what was going on outside," Xiao says. After Ma's patient explanation, Xiao understood how to prevent the transmission of the virus. Ma taught Xiao the seven-step washing technique, telling him to use soap or disinfectant to disinfect his hands before eating snacks and meals.
"Teachers are busy every day. I'm worried about them and I appreciate all they have done for us. I've learned that it's useless to be afraid of an epidemic. We should learn to protect ourselves," says Xiao.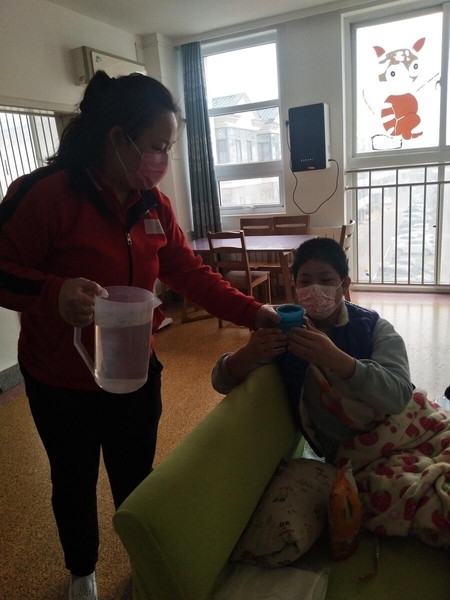 "During the outbreak, we carried out activities to explain some prevention knowledge to older children, so that they would know the proper way to wear masks and wash hands, and have a sense of self-protection," says Teacher Ma. "It's not enough for us to take care of them. It's more important for them to have a sense of taking care of themselves."
Though their daily routines look a little different, the children are still excited about the upcoming Spring Festival.
"There will be much delicious food, and Miss Chen will prepare a big meal for us," says Xiao. "We will be very happy to have the Spring Festival dinner together!"
What can you do to help?

1. Pray! Join us in praying for the lives lost to this virus already, for those who are suffering from its symptoms, and for those who are fearful of contracting it.
2. Protect yourself and your loved ones by following the CDC's prevention steps. Regularly wash your hands, cover your mouth and nose when sneezing, and stay home at first notice of flu-like or COVID-19 symptoms.
3. Advocate for stronger health systems around the world! U.S. foreign assistance strengthens countries' abilities to stop epidemics like COVID-19. One of the main goals of U.S. spending on global health is strengthening health systems and building capacity for preparedness. Please contact Congress and ask them to protect this critical funding:
ACT NOW:
Top photo: Teacher Ma is helping Xiao learn how to wear a mask and is sterilizing the room where the children live. While not everyone needs to wear a mask during and outbreak, it's important that members of vulnerable populations like Xiao and Teacher Ma be able to wear them. (© 2020 World Vision/photo by Xu Wen)