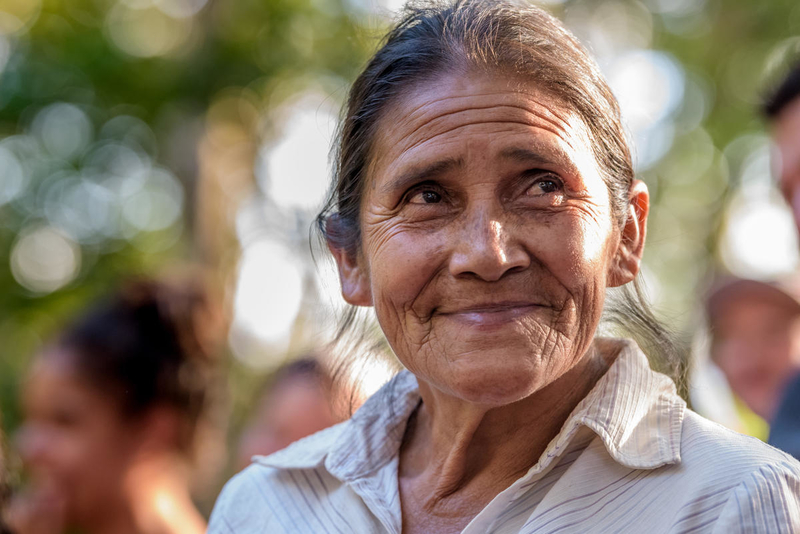 This year, we had an extra day in February to advocate. We needed it.
On some days, February broke our hearts. For the fourth year in a row, the president's proposed budget included big cuts to U.S. foreign aid, especially to the humanitarian accounts. We watched, and are still watching, the spread of the novel coronavirus (COVID-19) hurt families and spread fear across the globe. And in Syria, violence and displacement are pushing humanitarian aid to its limits as the conflict approaches its ninth anniversary.
But that's not all we saw, and it's not what we fix our eyes on. We fix our eyes on Jesus, and we'll continue to run the race he's marked out for us (Hebrews 12:1-2). And we'll keep speaking up for justice through advocacy, and we'll keep making progress! Here's some of the progress we made together in February:
You spoke out (again!) for foreign assistance
While we were disappointed to see damaging cuts once again proposed in the president's budget, we were encouraged that advocates understand that foreign assistance fights poverty: You took over 1,000 actions asking Congress to protect accounts that fight hunger, violence, and poverty around the world! In past years, advocates have spoken out in support of humanitarian foreign assistance, and Congress has consistently protected, and sometimes even increased, this 1% of the federal budget. Thank you!
Your number one action of the month was …
Fighting child labor! In February, advocates took over 3,300 actions in support of funding for the Bureau of International Labor Affairs (ILAB), which is the chief U.S. agency combating exploitative child labor. All kids deserve the chance to grow up safe from hazardous labor, to get an education, and just to be able to play, and you sent that message loud and clear. (If you didn't get a chance, you can still send an email to Congress asking them continue working against child labor!)
Volunteer Advocates kicked off in-person meetings
World Vision Volunteer Advocates raise their voices even louder, so to speak, by scheduling in-person meetings with their members of Congress (and we help them every step of the way!). During appropriations season (aka, when Congress starts putting together the budget for the next fiscal year), Volunteer Advocates encourage Congress to fund accounts that make a difference for kids and families.
This year, as we see an increasing number of people around the world fleeing their homes due to disasters and conflict, Volunteer Advocates are challenging their representatives to fully fund the International Disaster Account. When disasters strike, like the violence in Syria, this account allows the U.S. respond and come alongside communities to meet immediate needs and build resilience.
A virtual high-five is in order for the Volunteer Advocates who met with their representatives in February: Mike L. and Flavie A. in Maryland, Joe S. in Iowa, Marvin B. in Virginia, Cheryl R. in Pennsylvania, Jennifer W. in California, and Chris K. and the Women of Vision in Oregon. These meetings make a difference: Last year, Volunteer Advocates talked to the representatives about the Ending Violence Against Children Resolution, and then this year …
The Ending Violence Against Children Resolution passed in the House!
Quick confession: The Ending Violence Against Children Resolution (EVAC) actually passed on March 3, not in February, but we didn't want to wait another month to talk about it! After almost a year of emails, calls, meetings, and prayers, we are praising God that Congress has taken this important step to protect kids all over the world. This bill will help fight child labor, trafficking, child marriage, and other forms of violence, which means that even as we celebrate, we're also asking the Senate to pass this bill! And speaking of the Senate …
The Nutrition Resolution passed in the Senate!
Time for another confession, the Nutrition Resolution actually passed in the Senate in January, but we forgot to mention it (there's always a lot going on in the advocacy world). The Resolution recognizes how important it is to improve mother and child health, and it puts a special emphasis on good nutrition during the first 1,000 days of a child's life (conception to age 2). Thank you to everyone who helped keep this bill top-of-mind for the Senate! Now, on to the House! Speaking of which …
We testified to the House Foreign Affairs Committee (they help set the foreign aid budget!)
On February 5, our Director of Government Relations, Lisa Bos, spoke in front of the House about the unique health challenges women face in developing countries. She shared that women face discrimination, inaccurate messages, and even violence that prevents them from accessing quality care. It's vital that Congress understands what women and kids face — and how U.S. foreign assistance is making real change. (Read Lisa's full testimony here.) Empowering women and children with access to quality healthcare and education is one of the most effective ways we can combat extreme poverty, and we need Congress on board!
Be encouraged: There is pain in the world, but God's people are not silent. And when we raise our voices together, we help push the world toward greater justice, mercy, and compassion for one another. Thank you for being part of it!
Therefore, since we are surrounded by such a great cloud of witnesses, let us throw off everything that hinders and the win that so easily entangles. And let us run with perseverance the race marked out for us, fixing our eyes on Jesus, the pioneer and perfect of faith.

— Hebrews 12:1-2 (NIV)
---
Join the team! Sign up for our action emails:
Top photo: Woman in Honduras (©2018 World Vision/photo by Jon Warren)